How to Feed an Artist in Residence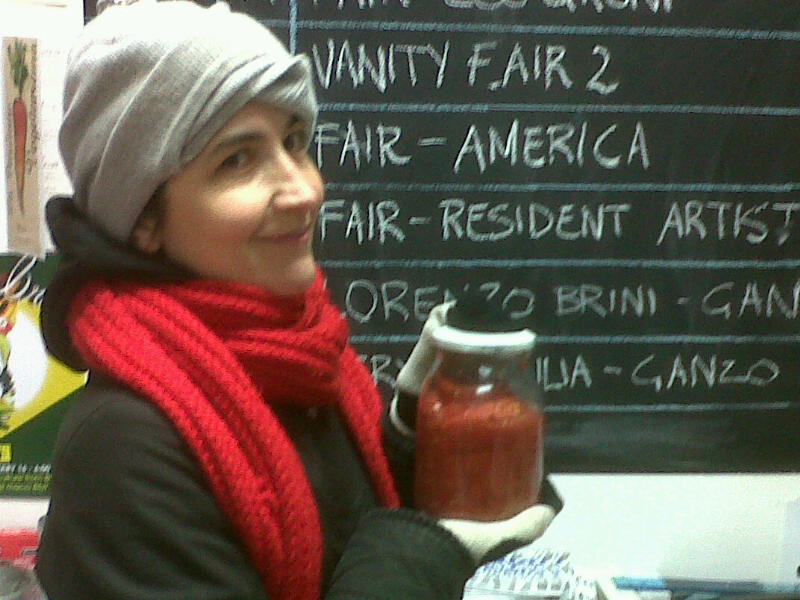 An artist in residence becomes a part of a space, a home, where his/her presence and art converge into a single collaboration. With residencies we often talk about where the artist lives and works, how the space may influence and foster artwork.
CiboChat wants to know, however, what does an artist in residence eat?
We caught up with Lucia Giardino, F_AIR director, who just happened to be delivering the standard welcome gift to all of our artists in residence – her mother Teresa Ciccarone's tomatoes.
Teresa selects tomatoes from the harvest in her native region of Abruzzo, in southern Italy, and seals into mason jars a bit of ripe summer flavors in a passata di pomodoro, the Italian staple for tomato-based recipes. The conserved tomatoes, roughly chopped and chunky, are perfect "for everything" in Lucia's words. They can be quickly reheated in a pan and eaten as is, transformed into a classic tomato sauce for pizza and pasta. A summer recipe recommended by Teresa is a Sicilian sauce, made by marinating the passata tomatoes with garlic, basil, olive oil and salt in the fridge for a day and tossed cold with pasta. The blended version of the sauce is said to make a mean bloody mary as well.
With all of Italy being snowed in at the moment, the newly arrived artist in residence's tastebuds will surely appreciate the burst of summer tomatoes on his palate!
F_AIR's Spring 2012 artist in residence, Lukas Machalicky, has recently arrived at our Fine Arts campus where he will be living, working on a personal show, and teaching installation art and mixed media to students from FUA Florence University of the Arts. Follow him on the F_AIR blog at fairflorence.wordpress.com.