Osteria dei Centopoveri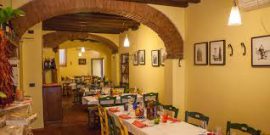 Review by Hailey Wilson, Emily Gardiner, Lindsey Bruen, Zoe Williams, Kira Nelson
Osteria dei Centopoveri is an establishment that has an extensive menu, a skillful and friendly waitstaff, and a comfortable and welcoming environment. It is a traditional restaurant hidden on a street nearby the Basilica of Santa Maria Novella. People can walk in and eat without a reservation on a slower night, however on a Friday night we found that it was a great idea to have made a reservation beforehand. There were also a couple bigger parties that made reservations before arriving to ensure they had a table. It is not a small restaurant, and can probably hold about 50-70 people at a time. There were several different doors, but the entrance took a few minutes to locate. The osteria was very easy to get to. It is located in a good area for business, as many tourists, as well as commuters are constantly passing by the establishment. Considering it is about two blocks from the train station and is very traditional, the osteria can entice many tourists. However, it also brings in locals, as it is authentic and traditional cuisine with a good atmosphere. The osteria seemed to be filled with roughly 50% tourists and 50% locals. Most customers were adults and young adults, as there were only few children in the osteria.
One of our group members had the quattro formaggio gnocchi con rocket and a glass of house Chianti, and greatly enjoyed it! Another group member had the spaghetti bolognese and a glass of house Chianti, which was amazing. One of our group members also has the quattro formaggio gnocchi con rocket, but had also the mussels and the prosciutto, cheese, honey for an antipasta. We also tried the rigatoni with sausage and mushrooms in tomato sauce. The dish was delicious with the perfect combination of flavors. Yet another group member tasted the seabass with vegetables, paired with a glass of house white wine and really liked her meal. The fish was not overcooked, but done perfectly. The dishes were well timed, and were beautifully prepared. Their food tasted very fresh and was served in a timely manner. The serving size was a perfect amount for an adult and it did not leave you feeling bloated.
Osteria dei Centopoveri
Via Palazzuolo, 31R
Tel: 055 218846
Hours: Daily, lunch 12:00pm-3:00pm; dinner 7:00pm-11:00pm