The TuttoToscana Team Dines at JBF
By Kerry Callender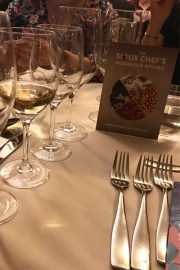 The TuttoToscana brigade shed their chef coats to dine as JBF guests.
In a delicious twist on our experiential learning activities, the TuttoToscana team dined as guests at the James Beard House over the course of two evenings. In preparation for our upcoming events at the House, we observed the dining room operations and food production from the guest perspective. It was also an opportunity to meet the JBF staff we would be working with over the next two days.
The baking and pastry teams were guests of chef Michael Rozzi and wine director Michael Cohen of 1770 House restaurant in East Hampton, NY. The theme of the event was "Chef, Farmer, and Winemaker." The next evening, the culinary and front-of-the-house teams dined as guests of chef Sean Sherman, founder of The Sioux Chef and co-author of a new cookbook. Chef Sherman's work focuses on revitalizing Native American cuisine and rediscovering their food paths lost through colonization.
Brigade members got a close-up view of the food production during a JBF event. Considered a "performance space" for visiting chefs, the team could now appreciate the ongoing interaction with guests who pressed into the kitchen to observe chefs at work. As the front-of-the-house team members, we were impressed with the smooth efficiency of the JBF staff as they navigated service on four different floors. Wine service combined adept pours with engaging narratives about the wines being served that evening. Dining at the Foundation helped our entire team understand the expectations for service and we felt up to the challenge.
Here, we introduce the final group of the brilliant 2017 TuttoToscana brigade:
Baking & Pastry:
Jordan Moorer – USA
After a successful experience last year, Jordan returned to participate in both the Florence and New York legs of the TuttoToscana program. Jordan is a graduate of Johnson & Wales University, with a Bachelor's and Associate's degree in Baking & Pastry Arts. This year she took on many leadership responsibilities in the brigade, and considers it a privilege to be mentored by Chef Simone.
Samantha Thomas – USA
Renaissance woman "Sammy" Thomas has a Bachelor's degree in Modern Foreign Languages from James Madison University and a Master's degree in Teaching Italian from Stony Brook University. She made the connection to FUA while taking language and pastry courses at Suffolk Community College. After studying at Apicius this summer, Sammy returned to Florence to participate in the TuttoToscana program. As a native New Yorker, it was exciting to showcase her baking skills at the JBF. 
Culinary:
Chen Liang (Brian) Chun – Taiwan
Brian Chun is in his final semester of the two-year culinary arts career program at Apicius and plans to enroll in the Master's program in Italian Cuisine. With his focus on understanding the culinary world from an international perspective, Brian jumped at the chance to be a part of the TuttoToscana team in New York.
Cora Gains – USA
Cora Gains is studying Culinary Arts, Baking and Pastry Arts, along with Food Service Management at Johnson & Wales University. She will complete her Bachelor's degree next spring and plans to continue with graduate studies in supply chain management. After spending the summer studying at Apicius, Cora returned to Florence to participate in TuttoToscana. Her study abroad experiences have reaffirmed her desire to pursue a career that involves the foods of the world.
Ileana Collado – USA
Ileana is a third-semester Master's student in the Culinary Arts program at Apicius. A native New Yorker, she considers it an honor to participate with the 2017 brigade to produce two separate dinners for guests at the James Beard House. Ileana is simultaneously pursuing her Sommelier Certification with FISAR, she is currently on the second of the three levels. Someday, she hopes to have an Italian-based gastronomy tourism business.
Kevin Pesapane – USA
Kevin Pesapane is studying Culinary Nutrition and Research & Development at Johnson and Wales University in Rhode Island. After completing his Bachelor's degree, he plans to pursue a graduate degree in business administration. Kevin spent the summer mastering new culinary techniques at Apicius and is thrilled to bring traditional Tuscan cuisine to his native New York.
Matthew Greiner – USA
Matt is a Culinary Arts student from Kirkwood Community College in Iowa. As a member of the first contingent from Kirkwood, Matt studied at Apicius this past June and returned to participate in both the Florence and New Yok legs of the TuttoToscana program.
Thomas Jobin – Canada
Thomas will complete his two-year Culinary Arts program at Apicius this month. Originally from Calgary, Canada, participating in TuttoToscana has given Thomas valuable insight into working in the fine dining industry and has confirmed his decision to purse a culinary degree.
Follow our journey from Florence to NYC on Facebook.