Tuscan Wines for TuttoToscana Event in NYC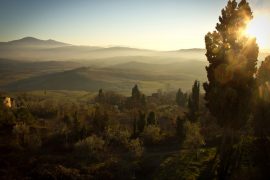 By the TuttoToscana Team
Introducing the selection of Tuscan wine producers which will be served at the TuttoToscana week-long event in NYC. Vias Imports Ltd. will be providing Tuscan wines for the event.
For the first time, TuttoToscana has collaborated with the New York wine distributor Vias Imports Ltd. for the 2017 Fragments of Tuscany week of events. Vias focuses on the history and devotion to the craft of wine making. They represent a very diverse selection of wines from Italian regions.
Tuscan wine producers were carefully selected for this specific event. Tuscany and its Wines students in Florence have been studying and sampling the wine in order to fully understand the complexity of the craft. Three trial dinners have been held at Ganzo to allow guests the opportunity to pair the wine with food.
The specialized selection of Tuscan wines includes the following:
Azienda Bruni a 40-hectare vineyard located in the Maremma area of southern Tuscany was founded in 1974 by Leo Bruni and his son Paolo. It is currently run by brothers Marco and Moreno Bruni and produces over 320,000 bottles per year.
Fattoria del Teso is 15-hectare farm managed by Francesco Bartoletti located in the Municipality of Montecarlo near Lucca. This farm is located in a medieval village between the Mediterranean Sea and the Apennine Mountains which gives it a favourable climate.
Fattoria Del Cerro is the largest private estate located in Montepulciano, with 94-hectares, producing Vino Nobile.
Castellare di Castellina is located in the heart of the Chianti region and produces about 400,000 bottles per year. The 33-hectare vineyard consists of vines that are aged between 7 to over 45 years situated on hillsides facing south-east.
La Lastra consists of two different working farms which follow organic methods of production. One farm is located in San Gimignano and the other is near Siena.
We are looking forward to sharing these Tuscan wines with the TuttoToscana guests in NYC!
Be sure to follow our blog as we will be talking about Tuscan wines in our upcoming blog posts.
Follow our journey from Florence to NYC on Facebook.