TuttoToscana Brigade Profiles: Baking and Pastry Part 2
By Brenna Boone, Samantha Lucenti and Gabriella Torcise
Get to know the 2016 TuttoToscana brigade! This is part 2 of our Baking and Pastry students.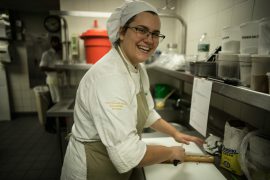 Angela (Angie) Brooke Jonason – USA
Angie Jonason is one of our talented pastry students who is on the 2016 TuttoToscana team. Angie is from Portland, Oregon. Her research in study abroad options led her to Apicius International School of Hospitality. She came directly out of high school and enrolled in the Baking and Pastry program at FUA. Once she finished that she moved on to the Advanced Pastry Program and now she is already excelling through the Masters program at FUA. In the future Angie would like to start working in the hotel business because she likes how well rounded it is. There are many different directions she can go with a career beginning in the hotel industry. She loves baking but she thinks a bakery would be too one-note for her and a restaurant would just be too much at times. When she isn't in the kitchen for class or work, she is in her kitchen at home! Angie loves to make cookies. She also loves walking around her hometown, being with her friends and reading. She also played the flute for eight years! Within TuttoToscana she is particularly excited for all the different types of cookies that she gets the chance to make.
Emily Klingemann Simonds – USA
Emily is part of our Pastry Brigade, thanks to finding our Baking & Pastry program with FUA after she graduated. She is from Dallas, Texas and graduated with a Business Degree before realizing her true passion. From TuttoToscana, she hopes to reconnect with her chefs and colleagues from FUA while learning from the experience the prestigious James Beard Foundation offers. She believes this will help her with her future, as she explores all her options within the food and beverage industry. She has worked in a Pastry shop, and hopes to work in a restaurant next. She is excited for the pear tart dessert for the Alumni Dinner, but also simply to work on building all the dishes together as a team.

Jordan Moorer – USA
Jordan Moore is from Oklahoma City, Oklahoma. She attends Johnson & Wales University in Florida, and found the Baking and Pastry program with FUA over the summer with Fedora. She started as a culinary student in high school, but after the pastry class she realized she needed to switch career paths. She is excited about the TuttoToscana program to gain experience. Her ultimate goal is to own her own pastry shop. She is excited to work on the main dessert, a twist on the classic Spongata, for the Gala dinner.
Photos by David Weiss