TuttoToscana Brigade Profiles: Baking and Pastry Part 3
By Brenna Boone, Samantha Lucenti and Gabriella Torcise
Get to know the 2016 TuttoToscana brigade! This is part 3 of our Baking and Pastry students.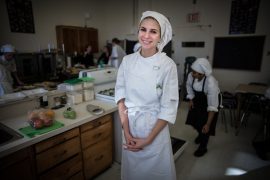 Robin Halford – England
Robin is a member of our pastry team. She is half Dutch and half English, but grew up in Greece, but now lives in Italy. She was attracted to FUA when she was taking an Italian program about three years ago. One of the students in her Italian class was in the Baking and Pastry program at FUA and told her about it. She already had an interest in baking and pastry, but this peaked it even more. About a year later she joined FUA on our pastry team. Currently she is in FUA's Masters in International Baking and Pastry program and will be finishing soon. She loves baking so much that she even does it in her free time. When she isn't in the FUA kitchen, she is in her own kitchen baking! One of the desserts that she is most excited for during TuttoToscana is the dessert for the final dinner at the James Beard Foundation; she describes this dessert as something chewy, chocolatey and delicious. Something she has been looking forward for in coming to TuttoToscana was getting a change to come to the United States and to see New York. She was also very excited to get her first honey bear. Where she is from, honey does not come in the cute little bear containers; she was so excited to get one herself, that she actually bought two!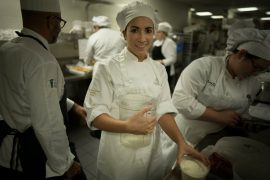 Alexis Panetta – USA
Alexis is from Long Island. Her passion for baking and pastry began when she was young – she used to bake with her aunt all the time. She started to do it on her own and decided to pursue it as a career. She found FUA through a study abroad program with Johnson & Wales University. She is looking forward to the great experience the James Beard program offers and is hoping to make connections with colleagues and guests. She is most excited to make the breads for each event, particularly the breads served with each dish during the gala event. She is gaining experience in each part of the food and beverage industries before making a decision on what she loves doing most.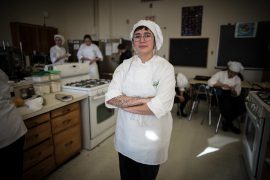 Gabby Cambronero – USA
Gabby is from Wantagh, NY born and raised on Long Island. She is a baking and pastry major at Suffolk County Community College. She got into baking and pastry after finishing her general education credits at CUNY Queens College. At Queens her plan was to always follow a career path that was art/hands on driven, but before jumping into a degree program Gabby decided to give baking as a profession a try. She never considered it to be a potential career path until she was about 19 years old. Honestly it was very spontaneous and not very well thought out, but she's a Gemini so when she decides to do something she gets it done, claiming it was the best decision she made in a while. Gabby was asked to join the TuttoToscana program after studying abroad for four weeks in June with Chef Simone from Fedora and FUA through Suffolk's four week summer internship program and knew that she would be crazy to pass up an opportunity like this. She currently works by taking custom orders for people as well as in a custom bake shop on Long Island decorating cakes, cupcakes, cookies, cake pops etc., but she'd ideally like to get into a kitchen sometime soon to get more comfortable with commercial recipes and plated desserts. Gabby is looking to go back to Florence next fall for the Baking and Pastry master class, as well as get her bachelors degree online and then a culinary certificate back at Suffolk. She would like the idea of opening a spot that caters to early morning/afternoon comfort foods with a concentration on baked goods as well sometime in the future (outside of NY). But as long as she's able to live comfortably doing something she loves it doesn't really matter where she will end up at this point.