TuttoToscana Brigade Profiles: Culinary Arts Part 2
By Brenna Boone, Samantha Lucenti and Gabriella Torcise
Get to know the 2016 TuttoToscana brigade! This is part 2 of our Culinary Arts students.
Palak Desai – India
Palak is from India and has studied Culinary Arts at FUA since Fall 2015. She has been interested in culinary since she was 11 cooking with her grandmother. Her future goal is to work around the world as a chef. What got Palak interested in FUA was gaining an interest in Italian cuisine. The dish she is most interested in preparing during TuttoToscana's main dinner is the stuffed duck. Palak is studying the rest of the year at FUA and will graduate in April with her Masters degrees.
Leonardo (Leo) Pugliese – Italy
Leonardo Pugliese is from Florence, Italy. He found FUA through a friend who recommended it. He has always been passionate about culinary arts since he was young, especially with how connected food is in Italian culture. He is hoping to gain experience and excited about the hands-on nature of the program. He is studying to hopefully become an Executive Chef. Leo is excited about all of the dishes, but in particular the main courses. His traditions connect him to pasta dishes, but he also likes the secondo dishes, in particular the Anatra all'arancia. He began studying with FUA two years ago, and spoke no english. After working with students and faculty, currently he is impressively almost fluent.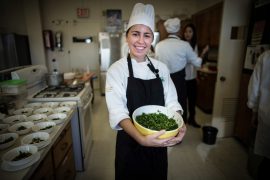 Victoria Daley – USA
Victoria Daley is one of our talented culinary students. She grew up in Mansfield, Massachusetts and decided to study abroad at FUA during her time at Johnson & Wales University. She has completed their culinary and nutrition program as well as a 4-week culinary program in Florence and is considering doing FUA's Masters program in culinary arts. Her interest in cooking began when she was very young. As a child, Victoria had the privilege of traveling a little bit of everywhere around the world. While she traveled she was exposed to the culture and foods of many different countries and places and loved it! She is very excited to learn new culinary techniques and skills from the chefs that come to TuttoToscana. Victoria would like to do more things with catering and private chef work and open her own farm-to-table restaurant in the future. When she isn't in the kitchen, she loves to travel all over the world. She hopes to continue to see more cultures and experience international foods.
Photos by David Weiss