Foody Farm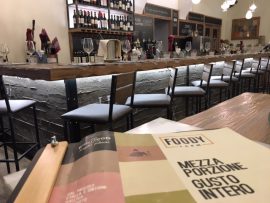 Review by Jon Stevanovich
Foody Farm is a must-go restaurant just North of the Arno River, tucked near the National Central Library on Corso dei Tintori. With its intricate menu and welcoming decorations, it brings a very homey farm vibe to the busy city of Florence.
The outside of the location gives a professional and clean-cut look with its clear windows and firmly painted wood panels. Inside gives a comfortable and colorful touch to the seating areas that hone in on the kitchen at the center of the restaurant. Equipped with pillows on the already cushioned seats, I felt like I could take a nap in-between servings and drinks. The wait staff was all very friendly and spoke English well.
The drinks and meals my table ordered included wine, fountain drinks, pasta, soup, and sandwiches. There was a large selection of red wines, with also some whites as well as non-alcoholic beverages. Our first course included soup that was thick and with a great taste. The pastas which everyone ordered different dishes of had flavors of lemon or lime that shocked all of us as to how rich the flavoring was on every bite. I also had a chicken sandwich and it was the freshest I've ever had with its light lettuce and sauce, despite the bacon which usually would weigh down any sandwich but only added flavor. In addition, there was a cooked egg that gave it more lift and health to the sandwich; I would definitely order it again.
Overall, Foody Farm has one of the most unique menus in Florence. It was a little confusing to understand how it flowed with its categories, ranging from Farm to pasta, etc., but the food was delicious and worth the effort. The presentation of all the courses was phenomenal as well, so get your Instagram ready for some food pictures and enjoy!
Foody Farm
Address: Corso dei Tintori 10/red
Tel.: 055 242327
Hours: Daily 11:00am-midnight