Bottarga Spaghetti with Lemon, Chili, and Breadcrumbs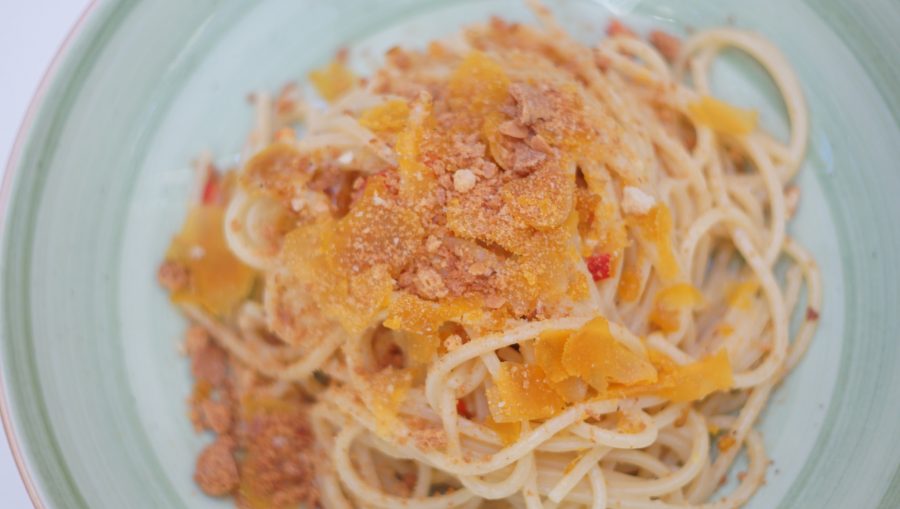 Looking for a seafood recipe with an extra kick? This recipe is for you! A simple dish packed with great flavors yet easy on the calories. It's a guaranteed show stealer when you have unexpected guests and need to prepare something in a rush.
Serves 4
Ingredients:
400 g spaghetti or pici pasta 
120 g flathead grey mullet roe, grated
60 g lemon zest butter (grated rind from 1 lemon mixed with
60g of unsalted butter)
10 g chopped fresh time 
40 g pan-toasted bread crumbs 
10 g garlic powder
10 g butter
1 fresh chilli pepper

Cook the pasta pici in salted water, following the instructions on the package. Then drain, making sure to set aside some of the water, and toss the pasta in a pan with hot butter to sautè. Add the fish roe, lemon butter, chopped thyme, and fresh chilli pepper. Add some of the pasta water to complete the emulsion and let the pasta cook for a couple of minutes. Top with garlic powder and bread crumbs. Serve immediately in a deep dish. Buon appetito!