Caponata (Eggplant and Tomato Casserole)
By Riley Hostutler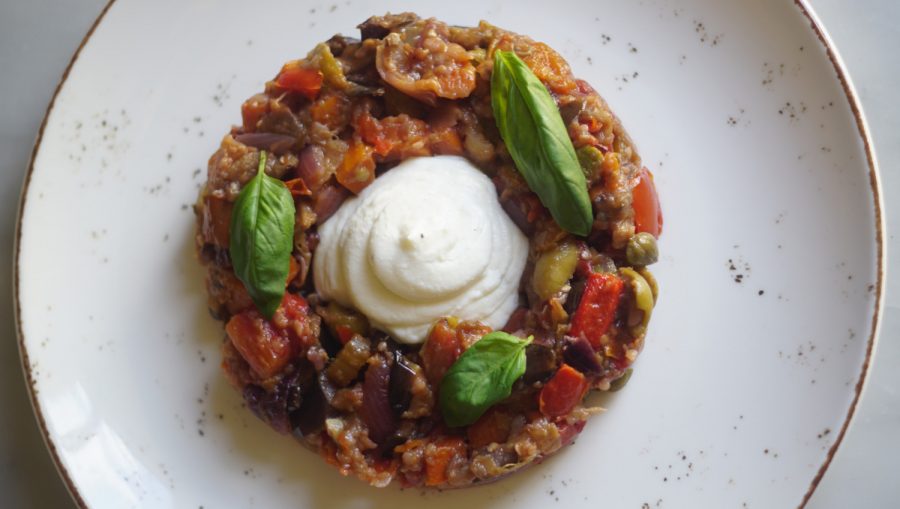 Rich in both tradition and flavor, the Caponata serves as Sicily's most classic appetizer and one of Italy's most renowned recipes worldwide. However, the recipe is controversial among Sicilians as they boast 37 different varieties of the recipe and many more personal family recipes. There are influences of Greek, French, Arab, and Spanish cultures in the dish, which tell the tale of the island's occupation by various civilizations throughout history. The minced vegetables add a fresh and clean flare, while the aubergine sauce adds a savory oriental flavor. This dish is flexible for various meals, as it first was commonly paired with Mahi Mahi, then eggplant, and, most recently, ricotta cheese and honey. This course has evolved since its first written source in 1706, but the heart of the dish stays the same: the blend that makes Sicily.
Serves 4
Ingredients:
800 g Round Eggplants
2 Red Bell Peppers
1 stalk Celery
1 Red Onion
1 Garlic Clove
2 Carrots
400 g Fresh Tomatoes
100 g Green Olives
Handful Desalted Capers and Lightly Toasted Almonds
2 tablespoons Brown Sugar
2 tablespoons Wine Vinegar
Extra Virgin Olive Oil, Salt as needed
Method
Begin by washing all produce. Then, cut the stalk off the eggplants. Reduce them into chunks and let them drain in a colander with coarse salt for about 30 minutes. Next, slice the peppers, onions, and carrots. Brown them in a pan and drizzle them with olive oil and a glove of garlic. Cut the tomatoes into small pieces and then add them to the separate pan. Add half a glass of vinegar to the pan and let it evaporate. After it evaporates, add two tablespoons of sugar to the mix. In a separate saucepan, blanch the celery for 3-5 minutes in hot water and vinegar. Then, place it in a cold bowl of water to stop the cooking. Once you are done blanching, add the celery to the pan of tomatoes. Next, rinse the aubergines and let them dry in a sheet of absorbent paper. Then, fry them in a pan with hot oil until golden brown. Then dry and drain the excess oil. Then add the fried vegetables to the bowl of tomatoes and celery. Add chopped olives, lightly toasted almonds, and capers. Gently mix with a wooden spoon so as to not flake the vegetables. Then, serve on a flat plate topped with ricotta and honey.