Dinner at the James Beard Foundation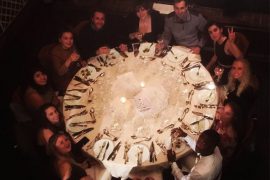 By Eva Björg Eyjólfsdóttir, Jessica Vercota, Mary Ann Camarda, and Delany Goff
On Friday, October 26th, all the students involved in the TuttoToscana program had the pleasure to attend one of the James Beard Foundation special events. The theme was Midwest Italian Meets California, and the menu explored a fusion between Italian, Indiana, and Californian cuisine. The host explained their focus on local products and considering the lack of wine produced in Indiana, they opted for Californian wines instead. Our team had already hosted FUA's Alumni event at JBF on Sunday October 21st, which gave us the opportunity to become more confident with the venue and to practice both the back and front of the house service for our capstone event on Saturday, October 27th. Dining at JBF as guests provided us with the unique opportunity to gain a different perspective on a JBF dinner, experiencing a new type of cuisine, and observing the service style. We liked the finger food best. The servers were knowledgeable about the food, and the quality was good. The timing went well, not too fast or slow, it gave the servers time to clear the tables and reset the table settings. The theme was consistent since they only served wines from California. There were also small parts of Italy, Indiana and California blended into every dish. The host did a great job going around tables and explaining the menu, as well as answering any kind of questions or curiosities that might come from the guests.
Overall, we did benefit from this experience, sitting at the table instead of being part of the front of the house team allowed us to notice some details and to reflect about the service style and approach that we intended to adopt for our capstone event at JBF. We all agreed that, although we are benefiting from the JBF front of the house staff experience in the field, we still wish to maintain our own identity, paying attention to manage the front of the house as we were taught during our hospitality classes at Apicius, focusing not only on professionally executing the wine service, but also taking the time to explain the theme of the night and the menu to guests, and being ready to answer any kind of questions.
Follow our journey from Florence to NYC on Facebook.