Egg Tagliatelle with Tomato Sauce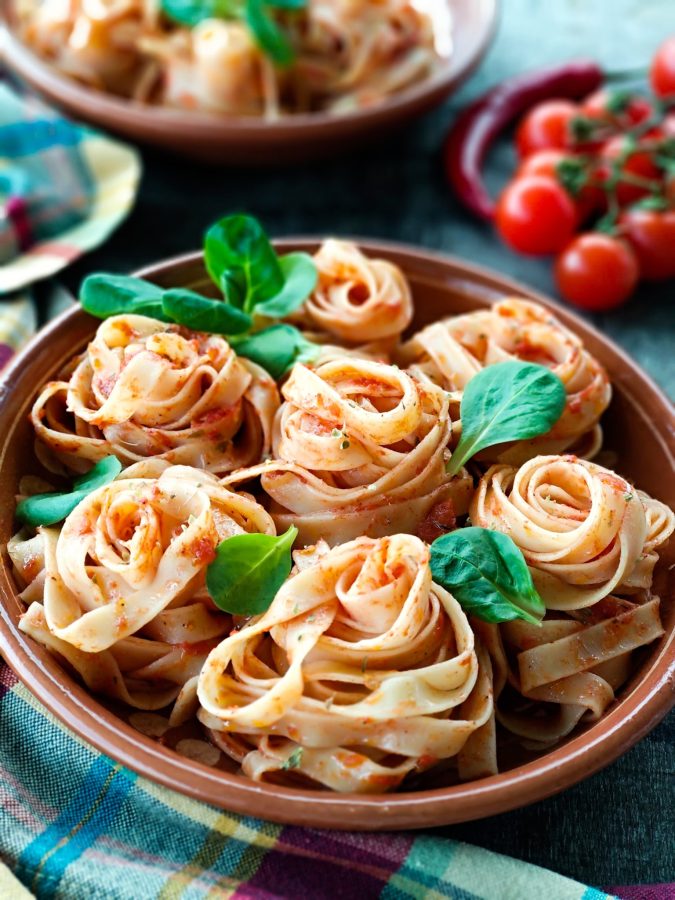 Looking for an authentic Italian pasta dish? This Salsa di Pomodoro and Egg Tagliatelle recipe is the perfect combination of a simple yet delicious tomato sauce and homemade pasta.
Ingredients:
1 kg (2 Ib) canned tomatoes
3 garlic cloves, minced
50 gr (1 + 1/2 oz) EVO Oil
4 fresh basil leaves, chopped
Salt to taste
200 gr (7 oz) semolina (durum wheat flour)
2 eggs
2 gr of salt
To make the Tomato Sauce and Egg Tagliatelle, begin by heating olive oil in a saucepan over medium heat. Add minced garlic and sauté until golden brown. Next, add canned tomatoes and salt and cook for about 10 minutes, stirring occasionally until the sauce is thick and chunky. Remove the pot from heat and add chopped basil leaves, stirring to combine. To make the pasta dough, pour semolina flour into a bowl and create a well in the center. Crack the eggs into the well and add salt, then mix vigorously until a smooth and even mixture is formed. Allow the mixture to sit for 30 minutes wrapped in plastic wrap before rolling out the pasta dough and cutting it into tagliatelle strips. Cook the tagliatelle in salted boiling water for around 2-3 minutes until al dente, then drain and mix with the Tomato Sauce. Serve hot and enjoy the fresh flavors of homemade pasta and classic tomato sauce.