Falafel with Curry and Spinach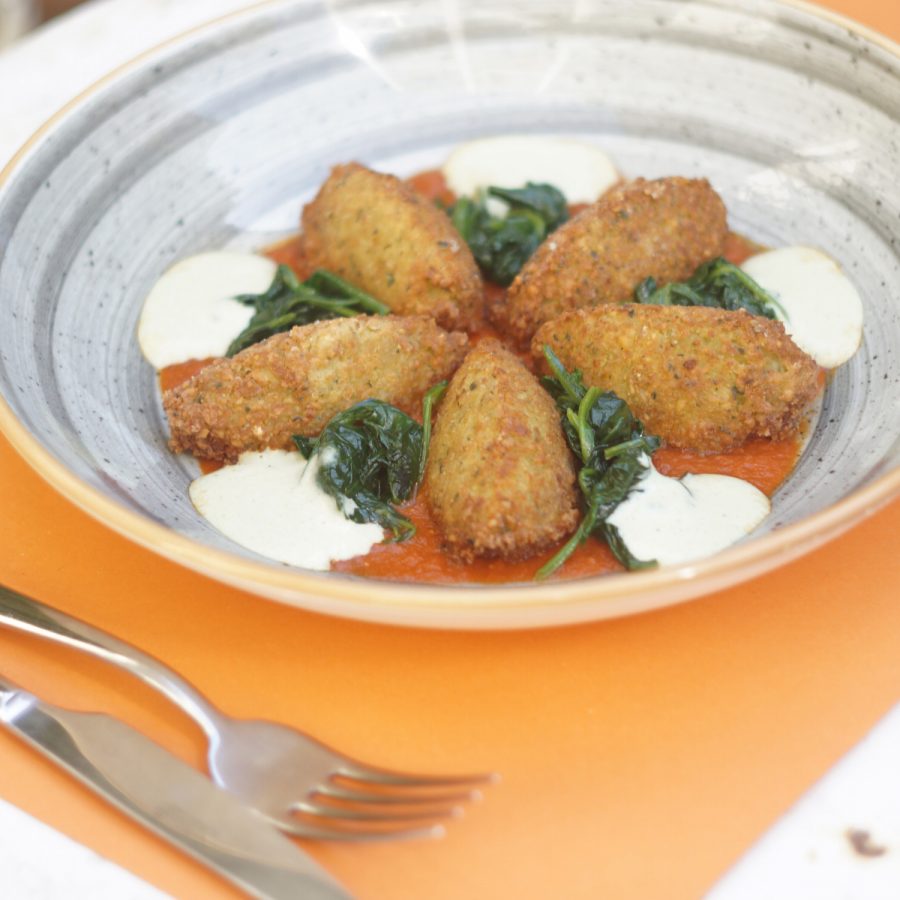 Today we'll learn how to make a Middle Easstern classic with a creative twist suggested by our Apicius chef students and faculty. The fried texture of the falafel and its soft interior is balanced by the freshness of the spinach and the tart flavor of the curry. This recipe can both serve as a main dish and an appetizer for your aperitivo.
For the falafel: 
1 cup of dried chickpeas, soaked overnight
1/2 cup of onion, chopped
1 cup of parsley, chopped
1 cup of cilantro, chopped
1 of green chili pepper
3 cloves of garlic
 1 tsp of cumin
1 tsp of salt
For the curry sauce:
4 cloves of garlic, grated
4 pieces of ginger, grated
1/2 onion, grated
2 tbsp of olive oil
2 tbsp of can tomato, purée
1 tsp of ground cumin
1 tsp of ground coriander
 ½ tsp of ground turmeric
1 tsp of garam masala
250g of yogurt, plus extra to drizzle
125g of spinach
10ml of lemon juice
Method
For the falafel:
Soak chickpeas for 24 hours, make sure to dry them thoroughly before proceeding with the next steps. Add chickpeas, herbs (parsley, cilantro, and dill), garlic, onion, and spices into the food processor and pulse a little bit at a time until the mixture is finely ground. Transfer the falafel mixture to a bowl, cover and refrigerate for at least 1 hour. Once the falafel mixture has chilled, stir in baking powder and toasted sesame seeds, and then scoop the mixture and form into small balls.
Cover the falafel with chickpea flour when deep fry on medium-high heat until golden brown.

For the curry sauce:
Mince the onion, garlic and ginger, add them to a food processor together with a 1 tbsp oil, tomato purée and spices in the small bowl. Purée together adding some water to make sure the end result is smooth.

Heat the oil in a pan over a medium heat then add the spice paste and cook, stirring, for a few minutes.
Add 250ml water, bring up to a simmer, then cook for 10 minutes.
Stir in 200g of the yogurt, then add the falafels. Cover with the lid and cook for 5 minutes until the falafels are heated through. Stir in the spinach and a squeeze of lemon, then re-cover to allow the spinach to cook.
Season to taste and serve in a dish with a drizzle of a little extra yogurt.