Homemade Tagliatelle with "Tocco" Genovese and Pecorino Cheese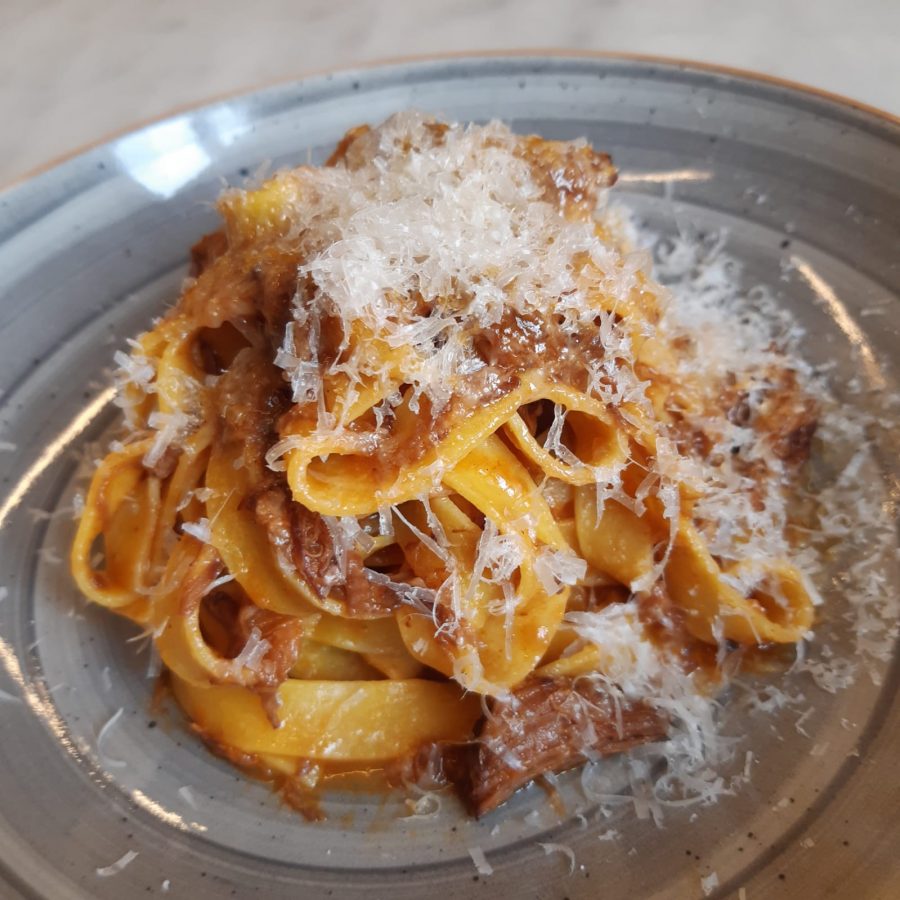 Today we will discover a lesser known pasta specialty from the Italian culinary tradition. Hailing from Genova, the meat sauce is a Ligurian take on ragu. Rather than ground meat, larger chunks are utilized and later removed to be used for other dishes. This technique was born out of necessity as many families had restricted access to meat in the past. The name "tocco" comes from "touch," as the meat "touches" the sauce without remaining in it.

For the tagliatelle:
500 gr semola
3 eggs
90-110 gr water

Shape the semola flour into a volcano with a large hole in the center. Crack the eggs into the middle. Lightly beat the eggs with a fork then mix in the water, a little at a time. Work the dough with the heel of your hand for 10–15 minutes until the mixture is smooth and very elastic. Wrap the dough in plastic wrap and refrigerate for at least 30 minutes
Dust a wooden board with 1 tbsp of flour. Unwrap the dough and flatten it with a rolling pin. Roll out the dough into thin pasta sheets, less than 1mm thick, and cut into large 0.75cm strips. Unravel the cut tagliatelle strips and twirl into little nests. Dust the nests with a generous amount of flour to stop them from sticking.

For the tocco alla genovese sauce:
1 kg lean beef (shoulder blade/shoulder)
500 gr mirepoix (onions, carrots, and celery finely chopped)
3 kg canned tomato puree, strained to separate the seeds
30 gr dried porcini mushrooms, soaked in water and finely chopped
500 gr chicken stock
Pecorino romano to taste

Sautè the mirepoix with olive oil in a large pan until caramelized. Meanwhile, prepare the meat: cut into large chunks, salt it, roast it in a pan with olive oil for 5 minutes, then deglaze the pan with white wine. When the mirepoix is ready, add the wine you've used to deglaze the meat to the mirepoix and deglaze it again. Add the tomato puree, porcini mushrooms, and stock, and cook for 10 minutes. Then add the meat and cook on low heat for 3 hours. Separate the meat from the sauce, and use it as a main dish served with mashed potatoes, polenta, or steamed/stewed vegetables.
Cook the tagliatelle in boiling water for 3-5 minutes. Drain the pasta, transfer it to the pan, and combine with the sauce. Serve in a deep plate with a dusting of pecorino romano.