I' Brindellone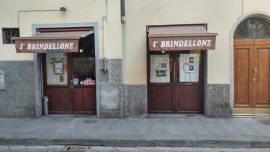 Review by Madison Tincher, Kristin Good, Julia Berlinger, Michelle Deveau, Anne Conway
We had planned to go to dinner here on a Tuesday, and when we had arrived, we were told they were all booked for that night. The gentleman who was delivering this message was Italian but spoke to us very politely in English. His nonverbal communication displayed his sincerest apologies. He sought out a resolution and we made a reservation for the following night to ensure we would have to opportunity to dine there. When we returned the next night, we were sat immediately as they opened. They made certain that we were satisfied with the location of our table as the others began piling in. It was a smaller establishment that seemed to only fit about 40 individuals in total. Part of our group went at a different time and had a very similar experience trying multiple new dishes.The atmosphere of the place was great; good lighting that was busy but not hectic. We were able to sit and enjoy our meal and conversation without feeling overwhelmed or rushed.
Crostini Appetizer:​ ​Had two different flavors. One tasted meaty and had a very good texture with many flavors (chicken liver paté). We were unsure what the other one was, but it was creamy and light; very, very delicious.
Pasta with shaved truffle: Had long egg noodles with a butter sauce, topped with shavings of truffle. It was a perfect balance of the butter and truffle, neither overtaking the other.
House wine: The house wine was a nice red wine that's inexpensive but very smooth and delicious. It was full bodied and paired well with the Crostini and main dish.
Florentine Tripe: The tripe had a very smooth and slimy texture. It was marinated in a lemon tomato sauce with seasonings. We tried to be adventurous when ordering this since it is traditional, but the texture was too overpowering and we didn't enjoy it as much as some of the other dishes.
Beef stew with peppercorn: Very bold taste with actual peppercorns mixed in with the sauce. The meat was tender and rich with flavor.
Fried Dumplings with cured ham and cream cheese: Dumpling was light and fluffy. Paired well with the ham and cheese when rolled up all together. The flavors balanced each other out very well One of our favorite dishes of the night.
Spaghetti: Fresh, long egg noodles with a tomato sauce. The noodles were thicker than some other typical spaghettis. Even though it was a pretty basic dish, it was still very satisfying, due to the freshness of the pasta and the ingredients in the sauce. There was a great balance between the tomatoes and other flavors (basil, salt, pepper) which made the dish not too strong or too bland.
For four people, we enjoyed two orders of Crostini appetizer, a liter and a half of the house wine, and each ordered our main courses which averaged to be around 19 euros each by the end of the evening. The establishment was exceptionally inexpensive given the high quality of the food we had been introduced to. We recommend that you make a reservation ahead of time and it is definitely worth it.
Trattoria I' Brindellone
Piazza Piattellina 10-12/r
Tel.: 055217879
Hours: Lunch 12:00-2:00pm; Dinner 7:30-10:00pm. Closed Mondays