Osteria del Caffè Italiano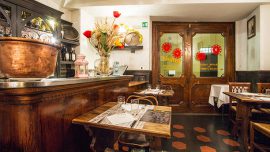 Review by April Herz, Taylor Basile, Katherine Corrigan, Meghan Leslie, Kendra Bunnell
Osteria del Caffè Italiano is located on Via Isola delle Stinche, a short 5-minute walk from Piazza Santa Croce. We attended Caffé Italiano as a group on Sunday for dinner and it was unnecessary to get a reservation for this time. The restaurant is tucked away on a side street so it isn't overly touristy. The design and layout create a rustic atmosphere. The staff was friendly and extremely helpful as one of our group members has a gluten allergy. We were sat at a table with no wait and given out menus right away.
The first appetizer that was order at the pizzeria was mozzarella di bufala. This consist of a whole bufala milk mozzarella ball with olive oil and basil. This appetizer was brought to the table only a few minutes after it was ordered. This mozzarella ball had a lot of flavor. The presentation was good. Overall it was a really great appetizer to order at this pizzeria. We also had the prosciutto wrapped melon. This appetizer was a good balance of a sweet and salty sensation. We enjoyed both of the appetizers.
The pizza menu only had 3 traditional options. We tried 2 out of the 3, the margherita and marinara pizzas. The margherita had mozzarella cheese, tomatoes, basil, and olive oil. The marinara had tomatoes, garlic, oregano and olive oil. Our food came quickly. The dough was flavorful with light but filling toppings.
As one of our group members has a gluten allergy, she also had a salad. The insalata dell'osteria contained lettuce, apples, raisins, nuts and Tuscan prosciutto These ingredients blended well together and the saltiness from the ham and nuts was complimented well by the sweetness of the apples and raisins.
For dessert, we ordered the torta al cioccolato fondente. It was described as a chocolate cake, but when the dish arrived, it looked more like a pie. There was a very rich chocolate fudge filling with a walnut on the top for decoration. It was also infused with rum which we could easily taste but was not too strong. The crust was very solid and seemed to be made of a mix of smashed nuts. Overall it was very flavorful and filling. Overall, we had a great experience at the Osteria del Caffè Italiano and would recommend this restaurant to anyone who would like an authentic Italian meal.
Osteria del Caffè Italiano
Via Isola delle Stinche, 11R-13R
Tel. 055 289080
Hours: Open daily lunch12:30pm to 3:00pm, Dinner 7:00pm to 11:00pm