Pan Fried Cuttlefish with Roasted Zucchini and a Sesame Chickpea Puree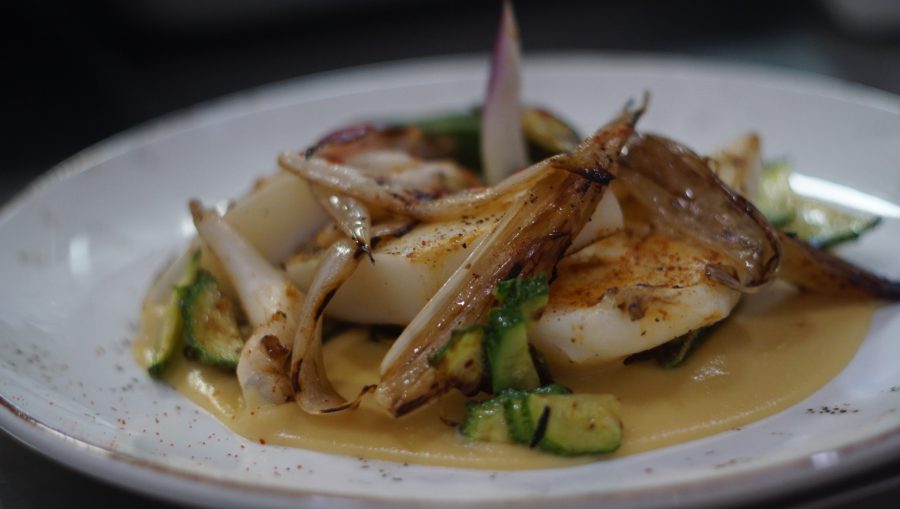 Holding on to the last moments of summer? It may already be September but this dish is bound to satisfy your palate through its warm yet seafood-fresh flavors!

Serves 4
Ingredients:
1 large cuttlefish (1kg)
300g cooked chickpeas
1 tbsp of toasted sesame oil
4 cloves of garlic
4 zucchinis with flowers
1 Tropea onion
Fresh thyme, salt, and pepper to taste

Method:

Clean the cuttlefish by separating the tentacles from the body. Score the body with a sharp knife to create a square pattern, dress it with salt and pepper and set aside. Boil the tentacles until soft in clean water, set aside and let cool.

Bring the chickpeas to boil with some water. Add the garlic cloves and let boil for 5 minutes until the chickpeas are soft. Then blend the chickpeas by adding some cooking water, thyme, and the sesame oil until the texture is smooth. Keep warm.

Prepare the produce: Separate the flower from the zucchini, julienne the flowers, and cut the zucchini in a batonette shape. Chop the onion into small wedges. Set aside.

Warm up a pan with a bit of olive oil. Add the onion and the zucchini together, cook at high heat till the zucchini starts to brown, adding salt and pepper to taste. Lastly, add the flowers and remove from the heat making sure to avoid overcooking the flowers.

Warm up a non-stick pan to high heat. Dress the cuttlefish with a bit of oil and press it in the pan until it becomes a caramel brown color. Turn it and repeat on the other side.

To assemble the dish: Use a deep dish. Add the puree to the bottom. Add the cuttlefish. Arrange the vegetables around the cuttlefish. As a final touch add a few cracks of freshly ground black pepper before serving.