Pizzeria Da Gherardo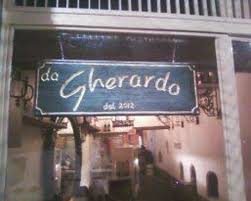 Review by Rhiannon Routh, Emily Garven, Elena Potts, Jessa Benson, Reaghan Fisher, Michael Swetnam
Pizzeria Da Gherardo is a small hidden gem just across the Arno River away from the busy streets of Florence. Da Gherardo is about a minute walk from the beautiful and historic Ponte Vecchio bridge, and has a wide variety of authentic Italian made pizza dishes; everything from, the famous Margherita pizza to Romana, Siciliana, Calzones, and many more. The wine list was rather small but the waiter was very helpful on helping us pair our dishes. You will want to get there early and we even recommend having an apertivo beforehand, in case there is a wait. With only 12 – 15 seats, it can get packed pretty quick. Worst case you will have to wait but they bring out the pizzas fast.
The reception and staff are great. I called to see about making reservations (which they don't take) and the host was very nice and spoke very good english. They also only take cash, so plan in advance. There wasn't a special or signature dish so we all ordered our choices of pizza. While most of us had the Margherita Pizza, others had Marinara, and Calzones. All served with white wine made from Vermentino grapes.
Overall, great food, great staff and an even better ambience. The location was a nice touch to get away from the busyness of Florence while enjoying the scenery along the Arno added a special touch to the walk home, stuffed with great Pizza and local wine.
Pizzeria Da Gherardo
Address: Borgo San Frediano 57/r
Tel.: 055 205 2888
Hours: dinner 7:00PM – 1:00AM, open daily