Spaghetti with avocado sauce, cured salmon, garlic, chili pepper, fresh basil, and mint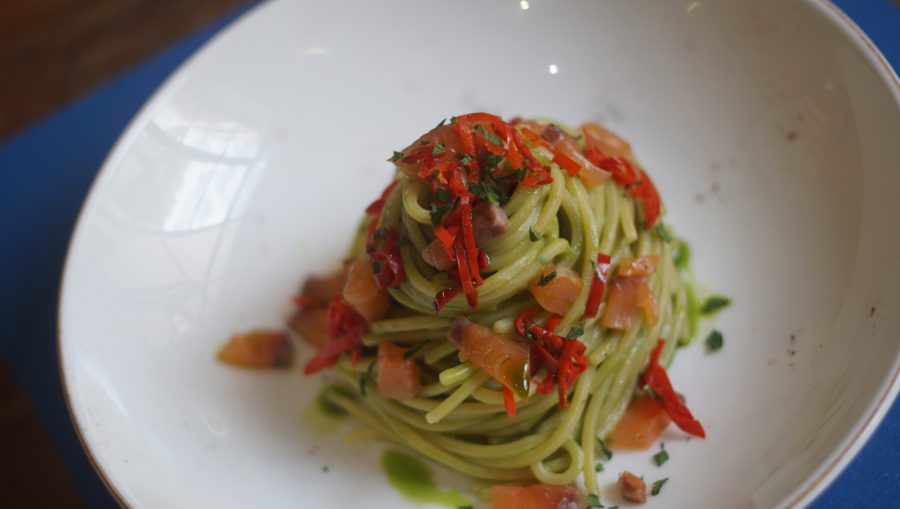 Looking for a new and exciting flavor that requires short prep times? Take inspiration from one of the latest Apicius student creations that puts a Mexican spin on the classic aglio olio peperoncino pasta: spaghetti with garlic, avocado, and chili pepper dressed with basil and mint.

For the Avocado sauce:
2 ripe avocados 
4 florentine zucchini, thinly sliced
3 shallots (2 chopped for the zucchine  + 1 raw shallot for the puree)
Lime juice to taste
Some ice cubes, as needed

Cook shallots in a pan with olive oil.  Add zucchini and cook until soft (approx  3 minutes). Salt to taste and let cool. Take the avocado pulp and puree with  the zucchine, the raw shallot, and the lime juice. Add ice if water is necessary to prevent the avocados from browning.
For the pasta:
200 g of linguine
100 g Cured salmon
50 g basil 
50 g mint
100 g rice oil 3 garlic cloves
3 chili pepper

Cook the linguine in a pot of salted boiling water. While the pasta cooks, blanch the mint and the basil, let cool and pat dry. Then pureè them with the rice oil and set aside in the fridge. Chop the salmon into tiny bits and set aside for later.When the pasta is cooked, drain well and mix with the avocado sauce letting it cling to the pasta. Plate and decorate with the chopped salmon, chopped chili, and garlic. Drip some of the mint-basil oil over the pasta.