The Artusi Cookbook and its impact on Italian gastronomy and society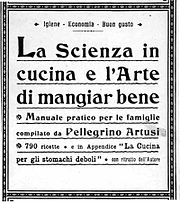 By SIMON BRADY + LAUREN BUSARDO
Pellegrino Artusi wrote a cookbook called "Science in the Kitchen and the Art of Eating Well" but was not a cook. So how did his cookbook become so popular that it is translated hundreds of thousands of times, sold in every Italian bookstore and found in every Italian home? Let's find out! He was born in 1820 in Forlimpopoli a northern in city in Italy but then moved to Florence. He was a wealthy businessman as well as a silk merchant prior and took over his father's business after he passed away. So with what knowledge did he write a cookbook? Well, he had a passion for cooking so he corresponded with friends, housekeepers, relatives, supporters and more all giving him suggestions and recipes. He spent his free time gathering these recipes and experimenting with them! Since he was a successful businessman, he retired at the age of 45 dedicating his time to his hobbies, cooking and writing! His cookbook has been helping entire generations in the kitchen since the 1900s. As it states on the cookbook itself, "Italy's Most Treasured Cookbook." His cookbook is well embodied with history and details about daily life making it apart of Italy's identity. He had great success and many celebrate him for transforming Italian cuisine. One can truly hear his voice in every recipe. Not only are the recipes delicious but the writing is fresh, funny, and real!