Toscania Ristorante & Pizzeria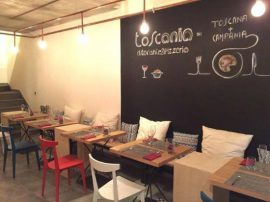 Review by  Daniela Roberto, Jordan Semel, Ally Quinn, Juliana Runnels, Alex Rohmann
Walking into Toscania Ristorante & Pizzeria, our first impressions were positive. We enjoyed the modern yet cozy decorations and atmosphere. The waiter was very helpful and friendly in choosing dishes and offered many recommendations. To start, we ordered the Greca insalate. This is a common dish, and for this one, the tomatoes and feta were particularly fresh and flavorful. For the main course, we also tried the Melanzane alla Pramigiana. It came with three small sauces on the side, one green, one yellow, one orange—which looked and tasted very similar to the aioli, salsa verde, and romesco sauces that we made in the second week of class. This is one of my favorite dishes, and we thoroughly enjoyed it at Toscania. The cheese did in no way take away from the flavor of the eggplant, which is something that I often find when ordering this dish. We also tried the pasta al Pomodoro and the pasta alla Bolognese, both of which were delicious.
Our experience at Toscania was a wonderful introduction to typical Tuscan cuisine presented in a modern-style ristorante and pizzeria. Many of the dishes that are representative of the seasonality of ingredients in Tuscany were present on the menu. Overall I enjoyed this experience and was glad that I had the chance to visit this restaurant. In the future, we would recommend this place to others!
Toscania Ristorante & Pizzeria
Via dell'Oriuolo 18/red
Tel.: 055 234 6671
Hours: Tuesday-Sunday 7:00pm-midnight. Closed Mondays