Francesco Vini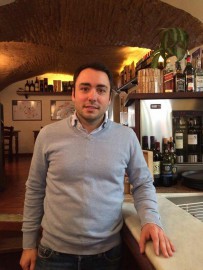 Francesco Vini: Great Food Since 1997
By Jenna Wilen
In 1997, Florentine native Francesco La Brusco opened Franceso Vini, a shop that housed wine with a large selection of Tuscan salami. The restaurant progressed by adding sandwiches to the menu. Francesco Vini began to emphasize the vitality of creating a warm, welcoming atmosphere for all customers. The restaurant was quoted as, "a pleasant restaurant [that] provided all the Florentine families". In 2007, Francesco La Brusco's son, Fabio La Brusco, took over the family business. Fabio was able to preserve success through continuing his father's accomplishments and by adding his own unique aspects. These additions include providing three course meals while maintaining the significance of wine. The wine is now stored underneath the restaurant in a cellar, which dates to Roman times.The restaurant upholds the three principles of elegance, quality, and tradition. Though when his father ran FrancescoVini it was quoted very positively, the restaurant is now seen as "one of the finest restaurants in the historic center of the city."
Francesco Vini
Borgo dei Greci 7/r
Tel. 055 218737
Hours: Monday-Saturday 9:00am-11:00pm from March to October; Tuesday-Saturday 9:00am-11:00pm November-February
Photograph of the owner, Fabio La Brusco, inside Francesco Vini
Photo by Morgan Borkowski
An interview with Fabio La Brusco provides a deeper look into the evolvement, progression and daily life as the owner of Francesco Vini:
Jenna Wilen: Why did you choose to follow in your father's career path? What traditions have you maintained?
Fabio La Brusco: I grew up in the business since my father previously owned it, but I really enjoy the business. I like to interact with people from all over the world. I've maintained the wine aspect.
JW: What are your day-to-day responsibilities as a restaurant owner?
FLB: I have many responsibilities to make sure everything runs smoothly. I'm continually solving problems and providing assistance to my staff in the kitchen, running the register, and greeting the customers. My involvement is important because I'm very particular with the preparation of my dishes and how they leave the kitchen. I have to try everything on the menu, which helps me think of specials. I'm here all day, everyday.
JW: What is your favorite part of owning a restaurant?
FLB: With all the people that work for me, it's nice to have about eight partners who work for me. I always say, "everything matters" referring to the food, service and the guests, which begins with welcoming my guests. I want to give them the best.
JW: Does owning an Italian restaurant make you feel more connected to the Italian culture?
FLB: No, not really, but I like to keep the Italian traditions alive. For example, outside the restaurant I write the specials on the chalkboard in Italian. Whenever I greet customers, I always say "buongiorno." As well, customers come for the best wine in Italy, Brunello di Montalcino.

The chalkboard outside the restaurant that has the specials, always written in Italian.
Photo by Jenna Wilen

Photo of the wine cellar underneath Francesco Vini, which is almost 2,000 years old
Photo by Jenna Wilen