Gelateria La Carraia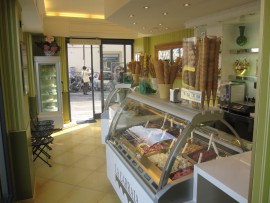 Review by Robert Ruggiero
The gelateria La Carraia is located right across the Arno near Santo Spirito in the Oltrarno District and caters to both locals and tourists of all age groups. It is a great location and I enjoyed the gelato while gazing at the Arno from Ponte Carraia. The Baroque Style ambiance (Green and white colors with antique gold effect, gilded framed mirrors, elegant glass vases) creates a very modern, clean, friendly environment. There is not much seating, just 2 small benches, 1 inside 1 outside and not much internal sitting space. The service was exceptional, and the servers were timely and friendly; my server provided me with her own recommendations for flavors. There is an immense selection of flavors (fruits, nuts, chocolates, creams, yogurts, coffee) that includes unique flavors specific to Carraia that I have yet to see in Florence. I chose three flavours: the Frutti di Bosco (mixed berries) was fresh with fruity and tart taste, the Chocolate was rich and flavorful, and the After Dinner flavor was sweet and light. They serve very large portions for fair prices, 2 to 4 Euro depending on size. They also have a variety of cakes as well. It was not too crowded during midday lunch break although it can get busy on weekends. Overall great experience, will now be my go-to Gelato stop for the future!
Gelateria La Carraia
Piazza N. Sauro 25/r
Hours: Daily 11am-midnight