Alla Vecchia Bettola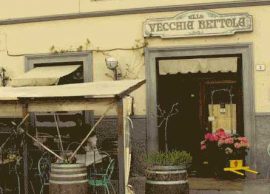 Review by Jennifer Persichilli, Janelle Levesque, Jennifer Eldridge, Alayna Aimes and Jennifer Schuckenbrock
Walking into Alla Vecchia Bettola, one first witnesses the boisterous and lively atmosphere busting with tables of cheerful Italian families and friends. Depending on what time you go, the seating varies; it is not required to make a reservation, but it is recommended if you want to get good seating and not wait. Even though it was more crowded, it was homey with the antique designs. The majority of the people were locals between the ages of forty and seventy, therefore we felt a little out of place. However, a few people in their twenties could be found in small groups as well as Americans or people from other European countries. The food definitely changed the overall first reaction; the food was fresh, tasteful, and it did not take too long to receive the meal. It was more difficult to know what some of the dishes were if you did not ask because the menu was in Italian. The workers were friendly, which made the experience more enjoyable. Another one of the unique elements that was present was the fact that the bottles and menus were used out of recycled materials. The space was small and a bit cramped, but in a way, it provided for a more authentic experience as opposed to a big, commercialized restaurant. Being away from the city center and Duomo, it placed us in a more local and traditional side of town, which was refreshing and allowed us to see different things in Florence that we had not seen before.
Specifically, the food selection was small but varied. We ordered the crostini as an appetizer. It could be described as salty, meaty, and very rich in taste. As a main course, we tried the 'topini al pomodoro e basilico', which was a gnocchi dish. The gnocchi had a lot of flavor and was very cheesy. While gnocchi are often too filling, the gnocchi served here was lighter but still satisfying. We also ordered the spaghetti with tomato sauce and basil as well as the rigatoni alle melanzane e ricotta pasta, which has a heavier red sauce, chunks of eggplant and salty cheese shredded on top. The rigatoni was a delicious and very flavorful dish that reminded us of eggplant parmesan. The spaghetti was cooked thoroughly and served at a good temperature. It had a great consistency and the perfect amount of spice. The meal tasted fresh and homemade, and it was filling. The house wine and tiramisu were both extraordinary comparatively to the places she has been. The tiramisu was better than any we've had here and although the restaurant was overall impeccable, it will be the primary reason to go back Alla Vecchia Bettola before we leave Florence.
Alla Vecchia Bettola
Address: Viale Vasco Pratolini, 3
Tel.: 055 224158
Hours: Tuesday – Saturday lunch 12:00pm – 2:30pm; dinner 7:30pm –10:30pm. Closed Sundays and Mondays