Baccala pan-fried with "black" butter, chickpea puree, and black cabbage pesto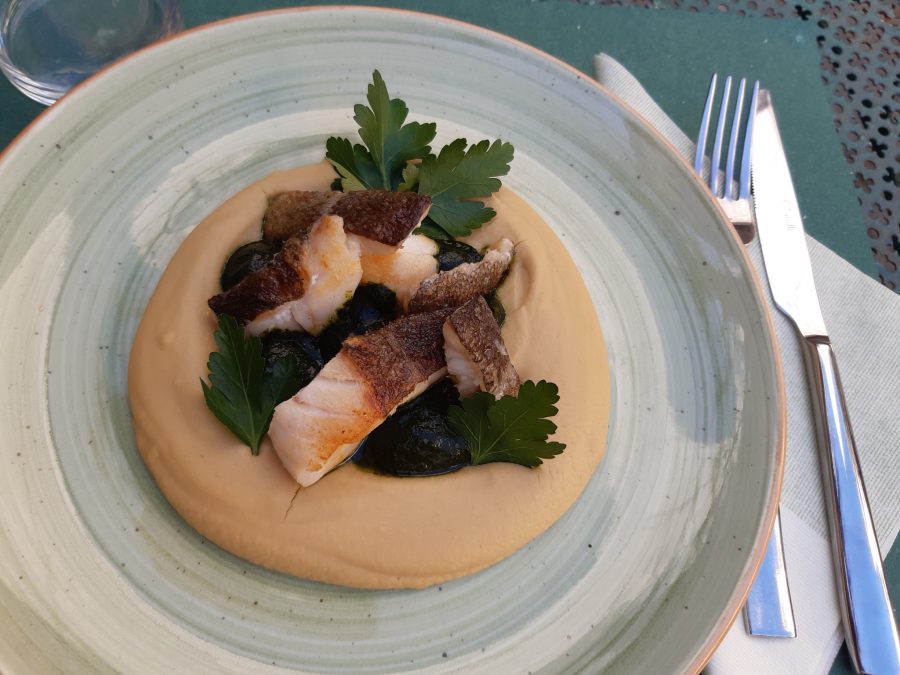 By Lauren Mulvey
Though the phrase "black" butter might be unsettling at first glance, this seafood meal is a trademark of Italian culture. Baccala, or salted cod fish, is traditionally eaten on special occasions and can be prepared in numerous unique ways. At Apicius kitchens, our chefs have prepared a delicious mix of fresh flavors to pair with this classic.
Serves approximately 6

Ingredients
"Black" butter
1 kg butter
100 gr capers
70 gr anchovies
20 sage leaves

Combine butter, capers, anchovies, and sage leaves in a pan and cook until the butter turns a rich brown color. Let the butter cool for 30 minutes then reheat and strain before cooling the mixture down and storing.
Chickpea puree

Ingredients:
500 gr cooked chickpeas (with cooking water)
1 garlic clove
1 rosemary sprig
5 sage leaves
1 shallot

To start, finely chop the garlic clove, shallot, rosemary and sage separately, and add to a pan with olive oil. Cook on low heat until soft. Add the 500 gr of chickpeas with their water and cook for 10 minutes. Next, puree the mixture adding 100 gr of olive oil until the puree is smooth. Finally, add salt to taste and set aside as you prepare the rest of the meal.

Black cabbage pesto

500 gr of black cabbage leaves
5 garlic cloves
100 gr olive oil

First blanch the cabbage in clean water three times (each time using fresh water). Then remove the black cabbage leaf stems and clean them. Slice the leaves finely and boil in salted water for 5 minutes. Puree the boiled cabbage with olive oil and garlic until smooth. To finish, add salt to taste.
Baccala cooked in black butter

Soak the baccala in water and lay a piece of parchment in a casserole dish. Pour some of the "black" butter into the dish. Place the baccala, skin-side down, on a pan and cook until the skin becomes crunchy. Flip the cod and let it cook slowly until the pulp starts to flake. To serve, plate the chickpea puree at the base of the dish and top with the "black" cabbage pesto, laying the pan-fried Baccala on top to finish. A note from the chef: It is highly advised that you do not add salt to the finished dish.