Handmade Green Gnocchi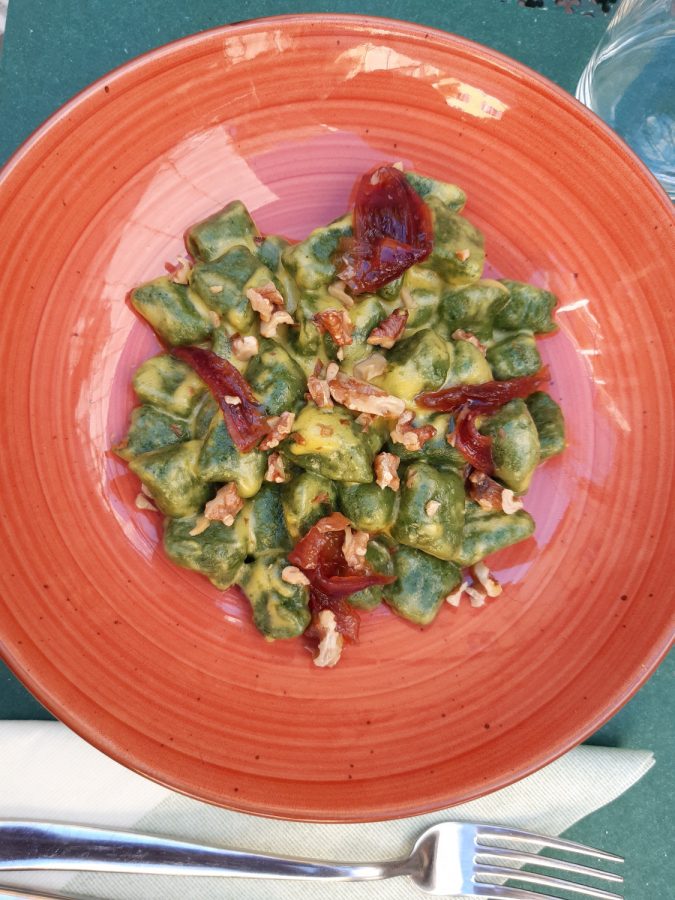 By Lauren Mulvey
Gnocchi is a classic dish dating back centuries in Italian history. But you may have heard this dish pronounced in some amusing ways. To set the record straight, gnocchi is pronounced no-kee, not guh-no-key or any other variation you may have heard. Derived from the word "nocche" for knuckles, gnocchi are small and round, and became a very popular dish throughout Italy and Europe because of the affordability of its ingredients. Here's how to make a classic gnocchi with a selection between two delicious sauces.

Serves 10
Gnocchi
1kg white potato
300 gr spinach
300 gr 00 flour
2-3 eggs
Salt

First remove the skin from the potato, boil and mash it. Next, cook the 300 gr of spinach in a pan, chop finely and puree. Combine the ingredients and shape gnocchi.

a) Gnocchi with Sage Sauce
With butter, sage and Parmigiano Reggiano PDO for the butter sage sauce
Ingredients
200 gr unsalted butter
20 fresh sage leaves
whole garlic cloves (to taste)
black pepper (to taste)
water/stock

To make the sauce, first melt butter in a saute pan with garlic and sage and let them infuse. Then add water/stock and black pepper. While the sauce cooks, boil gnocchi in salted water, drain and add to the butter sauce. Remove the garlic and let the gnocchi combine with the sauce on a medium-high heat. Take the pan off the heat and add grated Parmigiano and toss the pasta. Serve in a past bowl with additional grated Parmigiano on top of the gnocchi.

b) Gnocchi with gorgonzola saffron fondue, orange scented onion and walnuts

Ingredients:
600g Sweet Gorgonzola cheese
500g whole milk
250g fresh cream
5 sachets of saffron powder
Warm up the milk and cream together, but be careful not to boil. Add gorgonzola and mix. Let the cheese melt off the heat. Finally blend the mixture with saffron powder, strain and set aside.
For the orange scented onion

Ingredients:
300 ml water
300 ml orange juice
300 gr sugar

Prepare a 50 % syrup made with honey and orange juice. Cut red onions in wedges about 1 cm thick and cook with extra virgin olive oil and salt for 10 minutes until they soften. Add syrup to the onions and cook at medium-low heat until the liquid is dense and the onion is still "al dente."
Add salt to taste. Boil gnocchi in water with salt and drain. Add to a saute pan with the fondue and cook on medium heat until the sauce thickens. To serve, plate the gnocchi in a pasta bowl and garnish with the onions and crushed walnuts.