Chickpea Maltagliati Pasta with Octopus Ragu, Chili Pepper, and Herbs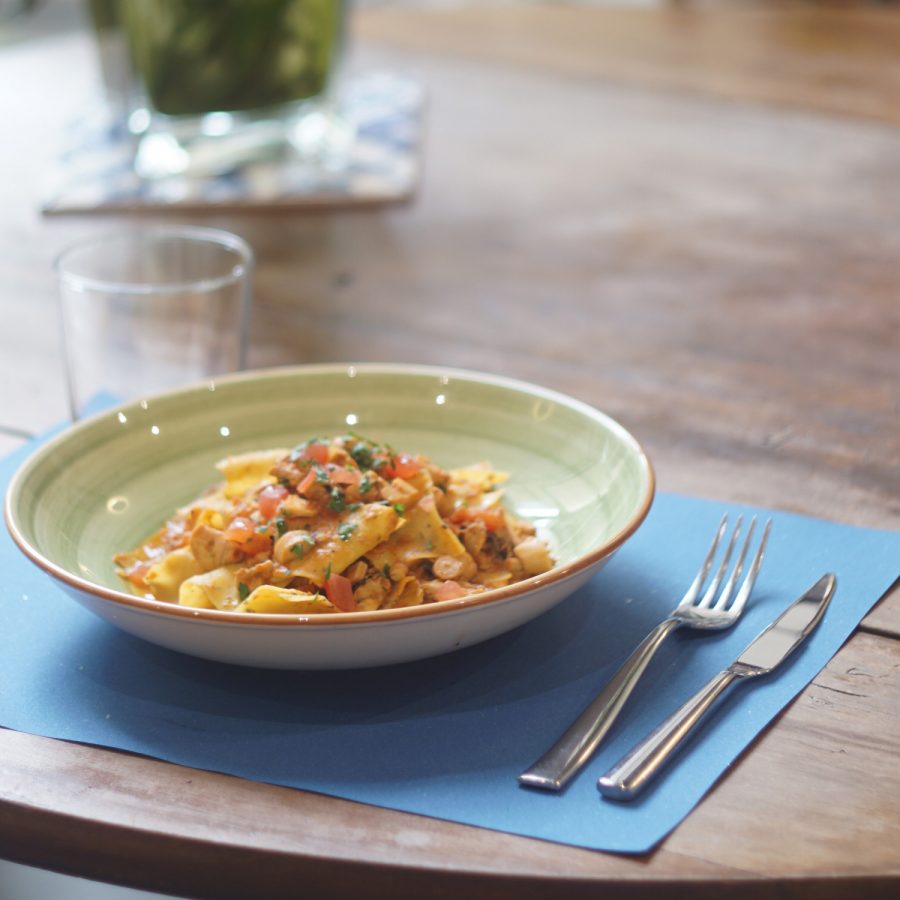 In Italian, "maltagliati" translates to "poorly cut" and refers to oddly-shaped scraps of pasta. This type of pasta is great for first-timers or making pasta at home since it doesn't require a perfect shape. Apicius faculty and student chefs recommend a light yet savory octopus ragu to lend the perfect flavor to this dish!
For the pasta:
Ingredients
300g semolina flour
300g chickpeas flour
6 eggs
Method
In a large mixing bowl, sift the two flours together. When thoroughly mixed, pour the flour on a working surface creating a mound with a small crater on top. Crack the eggs into the crater and start incorporating them with flour. When the dough becomes more compact, knead until the end result is a smooth and elastic dough. Wrap in protective film and let rest for at least 30 minutes. Afterward, roll the dough onto a flat surface using a rolling pin until a large rectangle no more than 5 mm high is obtained. Using a knife, cut the dough in rough shapes (approx 5cm by 3cm). Set aside the pasta dusted with a generous amount of flour to make sure they don't stick together.
For the ragù:
Ingredients:
800g octopus, minced
250g mirepoix ( finely chopped onions, carrots and celery in mixed in equal parts)
1 garlic clove
1 bouquet of rosemary, sage, parsley, (basil if in season)
200 ml red wine
1 tbsp olive oil
400g tomato concassée or canned tomatoes
Salt and pepper to taste
Method
In a large pan sauté the mirepoix in olive oil then add crushed garlic, chili pepper, and rosemary. Once the garlic is golden add the octopus. When the octopus is cooked on the outside add wine and let it evaporate. Add the tomato concassée and season with salt and pepper. Let simmer for about 40 minutes, adding water if needed and seasoning to taste. Once the sauce is ready, cook the maltagliati in salted boiling water, drain when al dente and cook in the pan with the sauce for an additional minute. Serve hot.