Crespelle alla Fiorentina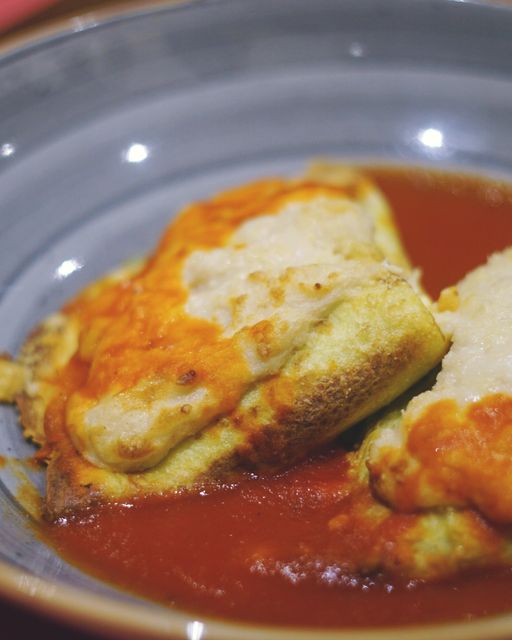 The crepe, or crespella as it is called traditionally in Italy, is a very versatile item in the kitchen: it can be used as a first course at a seated meal, a savory street food item, and of course a dessert. Speaking of desserts, some of the most well-known recipes featuring crepes are deserts such as the mille crêpes, a French cake made of many crêpe layers. Another iconic crêpe is the crêpe Suzette, a crêpe with lightly grated orange peel and liqueur, which is lit on fire during the presentation of the dish. Outside of Europe some other examples include the 49er flapjack, a sourdough crêpe from the U.S., that gained popularity in California at the height of the goldrush. But today's recipe is traditionally prepared in Florence, and has more in common with cannelloni rather than its sweet French cousins. Stuffed with ricotta cheese and covered with bechamèl and tomato sauce then baked, it's the perfect way to surprise any guest or family with something that feels both familiar and new at the same time.
Serves 10
For the crespelle:
100 g flour, sifted
250 ml milk
4 eggs
Salt to taste
Butter as needed
In a bowl whisk the eggs with four and salt, add the milk and set to refrigerate for 30 min. In the meantime grease a non-stick pan with butter. When the mixture has cooled down, take it out of the fridge and heat the pan on a low flame. When hot, spread a ladle of the batter and cook each crespella on both sides.
For the filling:
500 g spinaci, boiled and squeezed
400 g ricotta cheese
150 g parmesan cheese, grated
30 g olive oil
1 garlic clove, chopped
Salt, pepper, nutmeg to taste
In a large pan, sauté garlic in oil, add the spinach, and season it with salt. Sauté for a few minutes, chop, and set aside to cool.
Afterwards, combine the ricotta cheese, spinach, parmesan cheese, pepper, and nutmeg.
For the bechamèl sauce:

30 g flour
30 g butter
½ liter milk, hot
Salt, pepper, nutmeg to taste
In a saucepan, melt the butter, add the flour, and let it toast until it becomes golden. Subsequently add the milk, little by little, then season with salt, pepper, and nutmeg. Simmer for about 2 min until the consistency of the sauce can coat the back of a spoon.
For the tomato sauce:
400 g tomato paste
50 olive oil
Salt to taste
Pepper to taste
Boil all the ingredients together for about 10 minutes.
To assemble and bake:
Above ingredients
80 g parmesan cheese
ButterStuff the crespelle with the filling and fold them. Place them in a greased oven dish. Cover with bechamèl sauce, place tomato sauce on top, and sprinkle with parmesan cheese. Bake at 180°C for 20-25 minutes until the cheese has melted.
Serve warm.