Trattoria Sergio Gozzi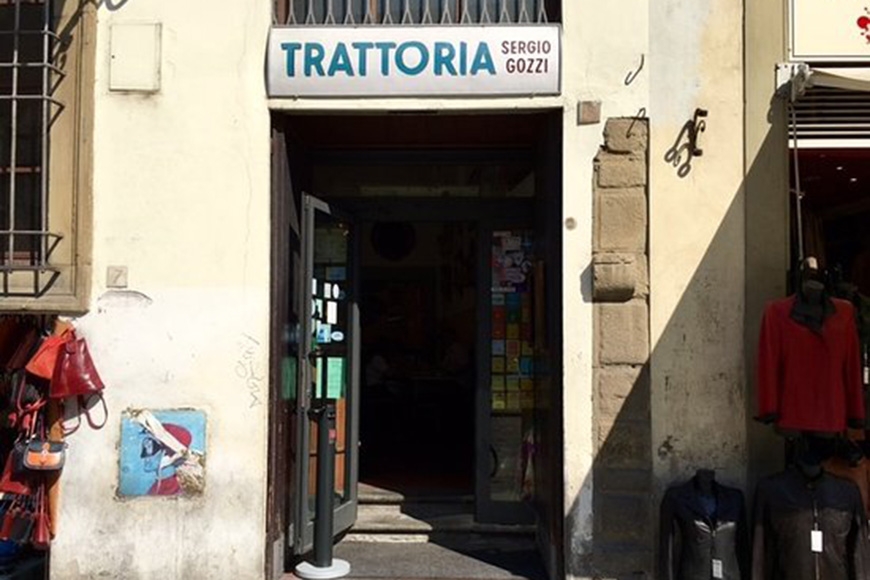 By Nikki Nappi, Allyson Andrews, Maggie DePaoli, Hope Joel
Trattoria Sergio Gozzi is a lunch only, family owned, 106-year-old traditional Florentine and Tuscan trattoria located in Piazza San Lorenzo. Despite being in an easy to reach, popular destination, it is not visible right away, the only indication it is there is a small sign above the door facing the street. The subtle outdoor decorations let the quality of the food and establishment's reputation speak for itself. Given the popularity of this establishment , reservations are highly recommended. It is possible to get a table right when they open without one, but there may be a wait within 30 minutes of them opening for the day at 12pm.

The clientele is mostly made up locals and is accommodating for families with young children as well. The staff is also friendly, quick, attentive, and speaks English for travelers and visitors. There are 14 indoor tables with about 50 seats total. The interior of the establishment is comfortable, well decorated, and exactly what you would expect of a family owned Italian trattoria – the walls are covered in vintage photos, books, wine bottles, and a large family portrait.

The menu changes day to day to respect seasonal availability of ingredients, since all ingredients are fresh and purchased daily from the local farmer's market. This is apparent in the meals we tried, each meal was flavorful, fresh, and well made. We tried for ourselves an array of traditional Florentine dishes from soup to pasta and a meat dish. The ribollita was delicious and made with fresh vegetables. Same goes for the ravioli with ragù sauce.
The peposo, a beef stewed in red wine with tomato sauce and black pepper, was flavorful and filling and the flavors of the spices and red wine in the sauce were very intense.The meat was slow-cooked and fell right apart. Also, the provided bread was useful in soaking up all the sauce and getting to enjoy every last bite. Each meal came out hot, which is always a positive. A drink menu was not provided, but you could ask the staff to bring you water or wine.

On average, the servings are medium-sized and an entree costs around 10 euros with a 2 euro cover charge. This seems pretty affordable for the quality of the meal and serving size customers receive. Overall, we would recommend this restaurant to anyone who wants an authentic Italian meal with traditional Tuscan dishes.