Finisterrae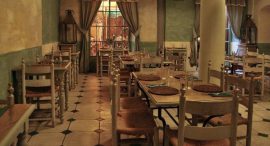 Review by Kelley Brennan, Linnea Gustafsson, Leigh Heinemann, Caitlin Falvey, Alexis Gigliello, Nicolas Tiezzi
Finisterrae is an Italian/Mediterranean restaurant that offers a lunch and dinner menu, as well as the option to order pastries and paninis from their front case. Reservations are recommended and only taken until 2pm of the requested day. Reservations can be made directly on their website for either their pastry store or their restaurant. Upon our arrival, we were welcomed in English by the host and brought to a spacious table. Our waiter did not speak much English but did his best to accommodate us. Our table was located in one of the back dining rooms which was decorated with beautiful Mediterranean colors and had large windows to let in light. The atmosphere was cozy and relaxed. We were impressed with the location, decor and service. The menu was easy to follow and was available in English. It was broken up by appetizers, salads, first courses and soups, second courses, sides, pizzas, and desserts. They offer vegan and vegetarian options in addition to their classic Italian dishes. Upon ordering our meals, we anticipated a delicious experience.
One of the meals that we ordered was the Winter Lentil Soup with Bread. It was similar to the traditional Tuscan bread soup pappa al pomodoro with potatoes instead of tomatoes. It was delicious and was served hot and a perfect fluffy, but also liquid texture. It was a wonderful "comfort food". The serving size was perfect, as it would fill somebody up during the time period of a dinner without making somebody too full. We would highly recommend this to anybody, especially on a chilly day! We also ordered fresh pasta with burrata cheese and artichokes. The pasta discs were cooked perfectly and blended together with the creamy cheese chunks and bitter flavor of the artichokes. Another dish we ordered was the "Lasagne Tradizionali al Ragù di Manzo." The lasagna was perfectly creamy and the portion was quite big. It's a great meal for either a lunch or a dinner! It was seasoned tastefully and just the right amount and didn't need anything extra once it arrived at the table. Our meals were all served at the same time and arrived piping hot. Although we got different dishes, each of them was flavorful and cooked to perfection.
Finisterrae
Piazza di Santa Croce, 12
Tel.: 055 263 8675
Hours: Daily 7:30am-11:00pm