Bar Pasticceria Caldana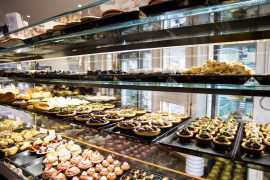 Review by Ross Powers, Amanda Guido, Annie Farley, Meghan Steines and Danielle Jones
Caldana was the largest pasticceria we have visited in Florence, and when we walked in, we immediately saw so many beautiful and tasty looking pastries, sandwiches, and so much more, along with an ample amount of seating. Most of customers were local Italians, not tourists. It was also very exciting to see that there was both inside and outdoor seating, which would be perfect on a sunny day. In general, Caldana was well lit, simple, and clean, with a large variety of pastries to choose from. After carefully viewing the selection, we ordered a selection of pastries.  The sfoglia alla mela was delicious! It was an apple filled pastry that was light and buttery, with the apples chopped into little pieces in a sweet sugary glaze. The pistachio and white chocolate tart was very sweet and smooth on the mouth and the tart crust was buttery and light, golden brown with a perfect finish. There were also crushed nuts on top. Overall excellent and extremely tasty. The hazelnut puff pastry had a light tan color with a cream colored topping. It was very light and fluffy that was overall good. The white chocolate tart that was much larger than the pistachio tart, roughly 10 times bigger, filled with white chocolate filling with dark chocolate shavings on top and extremely enjoyable. The nutella croissant, was different than other pastry shops make, with a sweet shell and a soft, flaky, inside that was extremely enjoyable. We also ordered a cappuccino, which was served at the perfect temperature! It was very foamy and not too sweet. The cappuccino came in a little white cup with Caldana written on the inside, which was a nice touch, and a black and white drawing of the Florence skyline on the outside, which made it feel very personable. Caldana's pricing was very similar to other pastry shops, two euros for a pastry and an espresso. Overall, we would highly recommend Bar Pasticceria Caldana to others because of its authentic Italian pastries. Although it is a walk from the city center, the place is very well organized, has a good atmosphere and excellent food.
Bar Pasticceria Caldana
Address: Piazza Pietro Leopoldo 4
Tel.: 055 474045
Hours: Daily from 6:00am to 11:00pm