Universo Vegano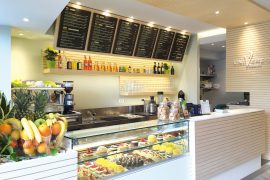 Review by Shira Levin, Julia Safir, Leila Aframian, Lauren Srour
We were all skeptical about trying a vegan restaurant, especially in Italy. We visited Universo Vegano at two different times:  on a Monday afternoon and a Tuesday night. The restaurant was very easy to find. The restaurant had a lovely aesthetic and felt bright and energetic during our lunchtime visit. The menu is extensive with a variety of vegan salads, soups, burgers, sandwiches, pizzas, sides, and desserts. Behind the counter there are also health foods and supplements available for purchase. Popular items are the veggie burger and the wraps on the menu. Universo Vegano has approximately 16 seats, and the customers seemed to be eating a quick meal in between running errands. This is a fast, easy, and casual restaurant that offers an array of healthy options.
During our evening visit, we were welcomed by a very sweet young woman at the counter. As we waited for our food, we noticed the cute upbeat ambience by day was more relaxing by night. The lights were dim and upbeat music played softly in the distance. We asked the waitress questions about the menu and she was very informative, accommodating to our taste/preferences, and enthusiastic about the fresh food. The waitress told us we were welcome to make any accommodations to how we would like our meal to accomodate some picky eaters in our group, but suggested we try the dish the way it is usually prepared. We took her suggestion and were all very glad we did. One of the dishes we tried was spaghetti di zucchine and a side of hummus. The zucchini noodles were fresh and tangy with a strong lemon flavor–something we did not expect from the dish's description. However, the sour citrus offered an interesting contrast to the smooth avocado and sweet cherry tomato. The food tasted as if it was just picked from a garden–light, fresh, and delicious. We also tried the artichoke pizza, which was ok but did not compare to the pizza other traditional Tuscan restaurants.
Although we waited a bit longer than expected for our meal, our food was fresh, healthy, and flavorful. Universo Vegano provided a tasty, light dinner, but it could also serve as a fast, easy, vegan lunch. However, Universo Vegano's coined description, "The First Vegan Fast Food," does not seem to fit the experience as the food took some time to prepare in comparison with fast food. We would all recommend this restaurant, especially for lunch as an ideal place to study, do work, or chat with friends.
Universo Vegano
Via Pietrapiana 47/R
Tel.: 338 8477269
Hours: Monday to Friday 10:00am-10:30pm; Saturday and Sunday 10:00am-11:00pm