Finisterrae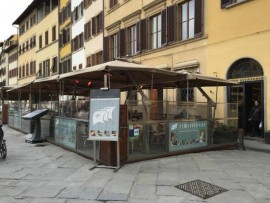 Review by Bailey Hudgens & Melissa Thames
Finisterrae is both a restaurant and a pastry shop located in Piazza Santa Croce. The ambiance varies from room to room because there are 8 different rooms. For example, in the Malaga room it is trying to replicate a paradise or African atmosphere. In the Tangari dining hall, it mimics Moroccan room and evokes the emotion of Africa. There are brightly colored pillows that you can sit on and multiple maps for decoration. In each room there are about 10 tables, except for the outside seating area which has about 30 tables. I thought this restaurant was very cool because the hostess let us tour the restaurant before picking which room we wanted to sit in. He even showed us where they made pizza and the brick oven they used. He told us they offered pizza making classes. The fact that it was a clear kitchen that we could see them making the pizza made it seem very fresh so we were definitely going to order the pizza.
The menu is very large and offers everything from appetizers, pasta, soup, salads, main courses, pastries, gelato, and an assortment of caffes. The menu is a mixture of Mediterranean and Italian food and signature dishes include Tuscan favorites such as Bistecca alla Fiorentina, Pappardelle al cinghiale, and Ribbolitta Toscana. Seasonality is respected with this restaurant and they assured us that no frozen food is used there.
Our food came out fairly quickly and the waiter was checking to make sure we had everything we needed. The salad that we ordered came out looking vibrant and fresh. Even the salad was plated beautifully by the way they cut the cheese and placed it on top. The pizza we ordered looked great and looked like a fresh pizza hot out of the oven. The pizza was very good and you could tell it had fresh ingredients on it. We ordered the Vesuviana pizza with spicy salami and it came out hot out of the brick oven. The wine list had about 10 bottles of tuscan wine that you could buy priced from 25 to 45 euros. It also listed a few other white, red, and rose wines that you could buy by the glass from 4 – 6 euros each.
Once we were finished with our food we asked for our check, gave him money and then left shortly after. I thought this was a very fair priced meal. Our salad was 9 euros and our pizza was 8 euros so we spent about 10 euros each after the cover charge. I thought this was fairly priced because it was very good food, a nice atmosphere, and it filled me up. The service was also very friendly, which was nice. They were glad to help us choose their favorite options and recommend certain foods.
It's better to have a reservation for dinner, but it is not needed for lunch. You do not need one to go into the pastry store. A reservation is needed if you have a big group or want to eat in a specific room. I would definitely recommend this place. I thought it had a very cool atmosphere and offered a variety of menu choices to please everyone. Also, if you want to sit outside it's a great area to people watch or stare at the beautiful Santa Croce church.
Finisterrae
Piazza Santa Croce, 12
Tel. 055 263 8675
Hours: Open daily 7:30am-11:00pm