From Farm to Table: Discovering New York City's Green Markets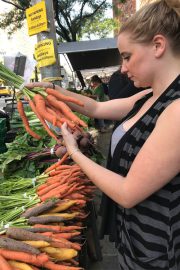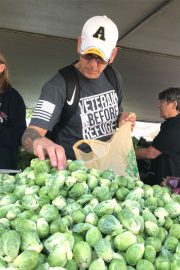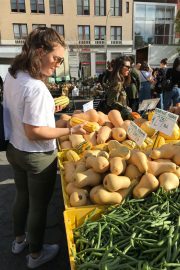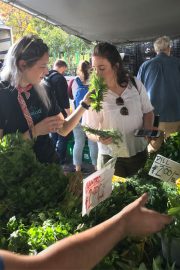 By Kerry Callender and Yedi Scargall
Our 2017 TuttoToscana brigade members explore New York City's Farmers Markets for the freshest produce the city has to offer.
The first task for the 2017 TuttoToscana brigade after orientation at the James Beard Foundation was to begin sourcing ingredients for the week's various menus. More than simply purchasing products, brigade members sought to understand the role of farmers' markets in contemporary gastronomy.
Students visited five different farmers markets, all members of GrowNYC's Greenmarket Farmers Markets initiative. Greenmarket was founded in 1976 with a two-fold mission: to promote regional agriculture by providing small family farms the opportunity to sell their locally grown products directly to consumers, and to ensure that all New Yorkers have access to the freshest, most nutritious, locally grown food the region has to offer.
In addition to the large Union Square Greenmarket, students also explored smaller neighborhood markets, which at first glance seem unimpressive in size. However, after speaking with customers, it became evident that these markets were a valued source of the fresh produce directly from local farms. Students also shopped in some of the more popular New York City food halls such as Eataly and Chelsea Market.
We would now like to introduce you to some members of the 2017 brigade as they combed the farmers markets in search of the freshest ingredients for the TuttoToscana menus:
Erin Denny (USA) – Culinary
Joining the New York City team after studying at FUA for six weeks in the summer, Erin was raised in Larkspur, California, and is now studying at the Providence campus of Johnson and Wales University. She is excited for the opportunity to accelerate her culinary studies in the TuttoToscana Program. Growing up baking cupcakes for family weddings, her love for food flourished in high school when she decided to focus her post-secondary education in culinary nutrition. Erin has now been to four continents, including Europe and Asia, where she not only was able to study at FUA but also did a community service trip where she worked with rescued elephants in Shanghai, Thailand.
Kenneth (Kenny) Sargent (USA) – Culinary
Bringing smiles to the faces of everyone he meets, Kenneth Sargent, as a member of the culinary team, is finishing up his degree at the Denver, Colorado, campus of Johnson and Wales University. His passion for culinary arts stems from cooking for his four children and the gratification of seeing the smiles on people's faces after they enjoy one of his dishes. Serving in the military until last June, Kenneth's goal is to take his culinary education and start a non-profit retreat for veterans suffering from PTSD and traumatic brain injuries. Kenneth's motto is live each day to the fullest and he has brought joy and passion to the TuttoToscana team.
Stephanie LaSpina (USA) – Baking and Pastry
Stephanie has an associates degree in Baking and Pastry Art and is a senior at Southern New Hampshire University completing a bachelor's degree in Culinary Management. She studied at FUA this past Spring semester and recognizes that the opportunity to participate in TuttoToscana at the renowned James Beard Foundation will have a significant impact on her career. A comment from Chef Simone that has stayed with Erin is, "You're not here to be a part of the program, you're here to be the program." She feels a sense of deep affirmation and empowerment from FUA's commitment to students' experiential learning.
Justin Parrish (USA) — Culinary
Justin graduated from Kirkwood Community College last December with a degree in Culinary Arts. He is one of several Kirkwood students who studied in Florence this past June after making a connection with FUA faculty at the 2017 National Restaurant Association Food Show in Chicago. Justin was honored to be invited to join the TuttoToscana team and returned for the 3-week fall session in Florence that precedes the week of events in New York. Reflecting on his experience at Apicius, Justin appreciates the diversity of the instructors and the wealth of knowledge they have to offer. He is particularly excited to showcase what he has learned about authentic Tuscan cuisine to a U.S. audience.
Follow our journey from Florence to NYC on Facebook.