From the Markets to the Kitchen: TuttoToscana Brigade Begins Production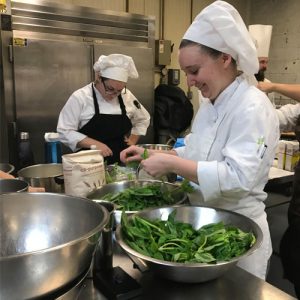 By Yedi Scargall & Kerry Callender
As the production begins to create gastronomic masterpieces reflecting Fragments of Tuscany, we continue to introduce the members of the 2017 TuttoToscana brigade.
After scouring Greenmarkets and specialty food halls on Sunday and Monday, the TuttoToscana kitchen brigade traveled to our designated prep space in Long Island City, Queens, to begin prepping for the first event. The Entrepreneur Space is a professional kitchen incubator where emerging businesses and entrepreneurs can rent space for commercial or large-scale food production. Once the team's inventory had been checked and necessary food items purchased, menu production began in earnest on Tuesday.
Here we continue to introduce the members of the 2017 Baking and Pastry brigade as they work their magic!
Jessy Harb- USA
Walking around town in her crocs Jessy Harb, from Seattle Washington, is excited for the opportunity to be a part of the TuttoToscana baking brigade. Studying at both the Denver and Charlotte campus of Johnson and Wales University, her main joy is making bread and croissants. Post-secondary baking and pastries was an inevitable next step in her education and getting the opportunity to study in Florence only fostered her love of gelato.
Emily Ann Carroll- USA
Emily Ann Carroll is part of the baking and pastry Master's program at Florence University of the Arts. Born in Maryland, Emily Ann joined FUA last January in the career program. Her dream is to stay in Italy for the rest of her life and open a hotel in northern Italy after she graduates in December. Growing up watching her grandpa make fresh breads as she sat on the counter and ate the dough, her love of baking became her lifelong passion. Despite popular opinion Emily Ann is very proud to call banana laffy taffy her very favorite candy.
Katelyn Mollenkopf- USA
Katelyn Mollenkopf, from North Carolina, studies at the Rhode Island campus of Johnson and Wales University. After taking part in the summer study abroad program, Katelyn felt the TuttoToscana program and being able to bake at the JBF was a once in a lifetime opportunity. At the age of nine, her love of baking grew while attending culinary summer camps, where she treasured the last two days which focused on baked goods.
Elizabeth Harris- USA
Elizabeth Harris comes from Colorado and graduated from the Johnson and Wales University, Denver campus, in May of last year. After spending the summer studying abroad and working at a bakery in her home town, she decided to kick start her future with the TuttoToscana program. Excited to learn how to develop a menu from scratch and balance recipes, Elizabeth joined the baking and pastry brigade. At a young age taking part in the Wilton cake decorating classes, she fell in love with baking and pastries. Elizabeth believes that if she makes her hobby her job she will never work a day in her life.
Anna Rinieri- Italy
Growing up near Florence, Anna Rinieri is embarking on her first time in the US with the TuttoToscana team. She is excited to learn how to work with a professional brigade. She began baking five years ago and her goal is to continue in the field and develop her skills. Currently working in a pastry shop, Anna would like to expand her portfolio by working in both restaurants and hotels.
Devin Zorn- USA
Growing up baking with her mother and grandmother, Devin Zorn uses culinary arts as a method to help her anxiety. She is studying at the Providence campus of Johnson and Wales University, completing a four-year degree in the baking and pastry program. After being unable to join the TuttoToscana team last year, when the opportunity arose for her to be a part of this amazing opportunity this time around, she jumped at the chance.
Kathryn Wright- USA
Studying culinary, baking, and pastry at Kirkwood Community College, Kathryn Wright treasures how food evokes emotion. Walking around the markets in Florence and being able to use fresh ingredients was the main highlight of her trip this past June. As a head baker in Iowa, Kathryn is looking forward to taking these experiences back with her to help her career flourish and to teach others.
Lori Lupardi- USA
From New Jersey, Lori Lupardi is currently studying at Johnson and Wales University. She has her Associate's degree in baking and pastry and is now focusing on getting her Bachelor's degree. Family traditions are what originally drew Laurie into baking and pastries. Lori loves baking on her family farm which is home to a special fall festival and petting zoo.
Follow our journey from Florence to NYC on Facebook.