James Beard Foundation Trial Dinners at Ganzo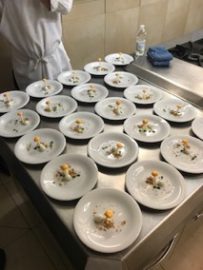 By Kerry Callender (coordinator), Samantha Lindmeier, Keya Mesthos, Ethan Zuk, and Allyson Frame
The TuttoToscana team offered a sneak peek of the food that will be served at the two JBF events in New York City.
Last week, the entire TuttoToscana team in Florence collaborated to execute two trial dinners for the upcoming events at the James Beard Foundation in New York City. Guests were treated to a preview of the menus for the gala dinner and the FUA alumni dinner on Thursday and Friday nights consecutively.
The purpose of these trial dinners was to simulate and test every aspect of the event concept, including décor, service timeline, menu flavors, wine pairings and everything in between. Under the expert guidance of FUA faculty, menu production and restaurant services were performed by the culinary, pastry, restaurant management, event management and wine service students enrolled at Apicius International School of Hospitality.
Both trial dinners took place at Ganzo which is the school restaurant as well as the creative learning lab of Apicius. Thursday's Themed Dinner tested the dishes for the JBF gala dinner. Reflecting this year's TuttoToscana theme, "Fragments of Tuscany," each of the six courses featured gastronomic elements uniquely linked to one of the ten provinces and their culinary culture. Diners journeyed through Tuscany by way of dishes that included ingredients like mortadella (cured meat) from Prato, pine nuts from Pisa and pecorino cheese from farms near Florence. The Apicius wine students carefully paired the lavish meal with a selection of Tuscan wines that are representative of the region's unique terroir. On Friday, the wine team tested two specific pairings that will be featured at the FUA alumni dinner. The primi of saffron gnocchi and a Massese-style tortelli was paired with a Vernaccia Di San Gimignano, and the secondo of mixed Tuscan fried meats and fresh market vegetables was paired with a Chianti Colli Senesi.
Both events were a resounding success based on the written and verbal feedback received from the guests. Even where flaws were identified, the trial dinners accomplished the purpose of enabling the brigade and service teams to pinpoint aspects of the menu and program that needed to be improved upon.
As the TuttoToscana team wraps up preparations here in Florence, their excitement and energy is palpable as they get ready to showcase the best of Tuscan wine and cuisine in New York City!
Follow our journey from Florence to NYC on Facebook.