The Wines of TuttoToscana 2017 – Part II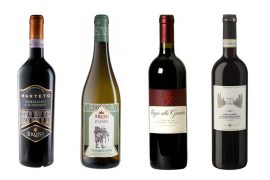 By Yedi Scargall
Following up on our last blog post here is part II of the wines that will be showcased in the week-long TuttoToscana event in NYC.
The final moments in Florence are being concluded before jetting off to NYC for a week of TuttoToscana events and presenting a magnificent selection of wine pairings featuring premier Tuscan wines.
The Tuscan region of Maremma brings us three wines from the Azienda Bruni and Rocca di Frassinello wineries.
Azienda Bruni known for generations of the Bruni family perfecting the production of their wine. Both a red and white wine have been chosen from this winery to accompany the incredible Aperitivo menu. These pairings have been meticulously chosen to highlight and enhance the locally sourced ingredients and recipes. The Azienda Bruni Morellino Marteto DOCG 2016 accentuates the savory flavors, while the Azienda Bruni Vermentino Plinio DOC 2016 leaves a soft, dry and tasty note.
Produced in the same region of Tuscany is the Rocca di Frassinello Poggio Alla Guardia IGT 2014, which will be paired with the secondo. The tenacity of the wine illuminates the savory flavors of the duck and creates a perfect balance when the rich flavor of the coffee and capers shine through.
The final wine comes from the Montepulciano Region's Fattoria del Cerro winery. Paired with an incredible creamy ravioli for the primi, the Fattoria Del Cerro Vino Nobile DOCG 2016 has dry, warm tones but is quite fresh to taste.
With these perfectly paired Tuscan wines Fragments of Tuscany Gala dinner and JBF is sure to be an unparalleled success.
Follow our journey from Florence to NYC on Facebook.