Junk Food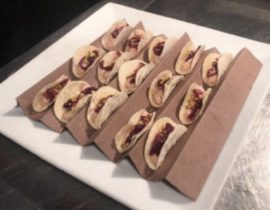 By Maddie Poulin and Zoe Palminteri
There was already a line at the door of Ganzo when the restaurant opened for Aperi-Ganzo at 6:00pm on Wednesday night, and it didn't take long for the space to fill up with hungry students, professors, and members of the public. This week's theme was linked with the idea of "junk food," but the student chefs were to put an "elegant and healthy spin on normally inelegant and unhealthy food," as the garde manger phrased it. There were five courses brought to the exclusive Table 21, which three student chefs explained. They were spinoffs of hamburgers, tacos, takeaway soup, chicken nuggets, and chicken wings.
The first student chef explained that each menu item was to be small, one-bite "fast food" inspired items, that's easy to grab on the go. He explained the tacos, which were very small and filled with foie gras mousse, onions, pistachios, and raspberries. The second chef explained the takeaway soup, which was a bean soup, with sun-dried tomato paste and a homemade cheese sauce dolloped on top. "The colors of the soup are red, green, and white, inspired by Italy," he exclaimed. He wasn't wrong; the soup was bright green, with red around the edges and the white cheese forming a circle in the middle.
The third student chef explained the hamburgers, chicken nuggets, and chicken wings. The hamburgers were made with a homemade focaccia bun with slow roasted beef inside soaked in red wine, sage, and rosemary, along with raw cabbage and mustard, apple cider vinegar, with a red wine barbecue sauce and a potato wedge on the side. The chicken nuggets were round, made elegant by putting a skewer through each one with a garnish, as well as having cheese inside with a homemade ketchup sauce to dip them in. Finally, the third student chef placed six wings with three types of sauces down on the counter. The sauces were all homemade: honey mustard, teriyaki, and the red wine barbecue that was on the hamburgers.
The special guests at Table 21 received the bean soup as their first course, which they eagerly slurped down very fast. The soup was packaged in a typical "to-go" coffee cup, staying true to the theme of takeaway fast food. They thoroughly enjoyed the soup, one of them claiming "they had never tasted anything like it before." While they didn't stick around long enough to enjoy any of the other courses, among the students from the Food, Media, and Culture class, three out of four of us collectively enjoyed the hamburger dish the most, and were very excited to have sauced wings, as
they are not traditionally on menus around Florence.