La Divina Pizza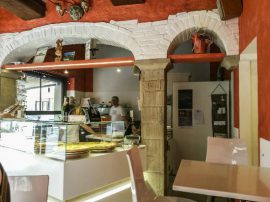 Review by Amanda Kate Tsukushi
La Divina Pizza is a quaint pizzeria establishment located walking distance from the Duomo and right near Santa Croce in the beautiful city of Florence. This small, but cozy restaurant prides itself on its fresh and high quality ingredients. The food and drinks are all organic and free from chemicals, making me even more pleased to eat there. As I entered, I was greeted by the owners who were hard at work making authentic Italian pizza. I also enjoyed the simple menu because I did not feel overwhelmed by the amount of pizza options. Because I came with a larger group, we made reservations. The tables upstairs fit around 2-4 people per table, and the downstairs tables could fit around 4-10 people. There were many locals rather than of a bunch of tourists, and I was happy to see locals eating here because it felt more authentic.
The service was great as well, and they were very helpful when we asked what was on each pizza. Everything was reasonably priced with a full meal costing about 8-12 euros. I accidentally ordered a Fanta soda, and the owner kindly reminded me that they only served organic soda without chemicals. However, I was pleasantly surprised by their soda that it did not leave me feeling bloated. The pizza that I ordered had delicious vegetables that topped them off, giving them a little more texture. The ingredients paired well with each other and it had delightful flavors. Because it is open from 10:30am-11:30pm, you can grab a quick bite from this charming pizzeria after a long day of shopping, after work, or after class. I would definitely recommend this pizzeria to any pizza lover.
La Divina Pizza
Borgo Allegri, 50/red
Tel.: 055 234 7498
Hours: Monday-Saturday 10:30am-11:30pm; Closed Sundays