Ricotta, Broccoli Rabe, and Lemon Ravioli on a White Bean Velouté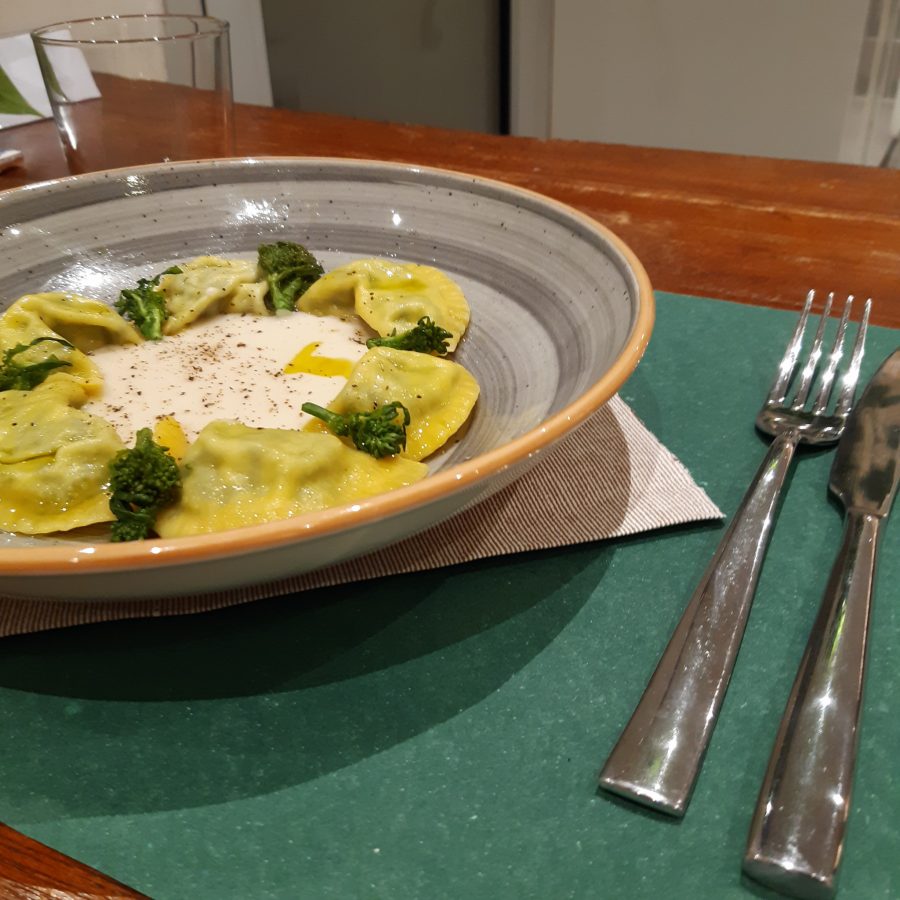 This simple dish has a both rustic and elegant feel. The bean serving base recalls the flavors of the Tuscan countryside while the lemon scent gives a light and gorgeous touch.

For the ravioli dough:
400 gr 00 flour
100 gr semola
5 eggs
water as needed

Mix the eggs, flour, semola in the bowl with your hands until a dough forms. Knead until the dough is smooth and elastic, about 10 minutes. Cover dough with plastic wrap and let rest at least 30 minutes.

For the ravioli filling:
While the dough is resting, clean the broccoli and blanch them in salted water. Chop finely and sauté with olive oil, chili pepper, anchovy and garlic. Let cool. Combine with ricotta and grated Pecorino, with a ratio of 60:40 and add grated lemon zest and salt to taste.
Roll out the dough into thin sheets. Brush the egg wash over a sheet of pasta. Drop the filling mixture on the dough by teaspoonfuls about three centimeters apart. Cover the filling with the top sheet of pasta, pressing out the air from around each portion of filling. Press firmly around the filling to seal. Cut into individual ravioli with a knife. Seal the edges.

For the cannellini olive oil velouté:
Soak cannellini beans overnight with 1 tsp salt / lt water, wash them, and place in cold water with garlic, sage, and black peppercorns. Bring to a boil and let overcook. Puree with a blender using olive oil and cooking water to obtain a very smooth and creamy puree. Season to taste.

To serve:
Cook the ravioli in slightly salted boiling water. They should float after approximately 4 min. Drain and serve each portion on top of the bean velouté. Buon appetito!