Simple Gazpacho Recipe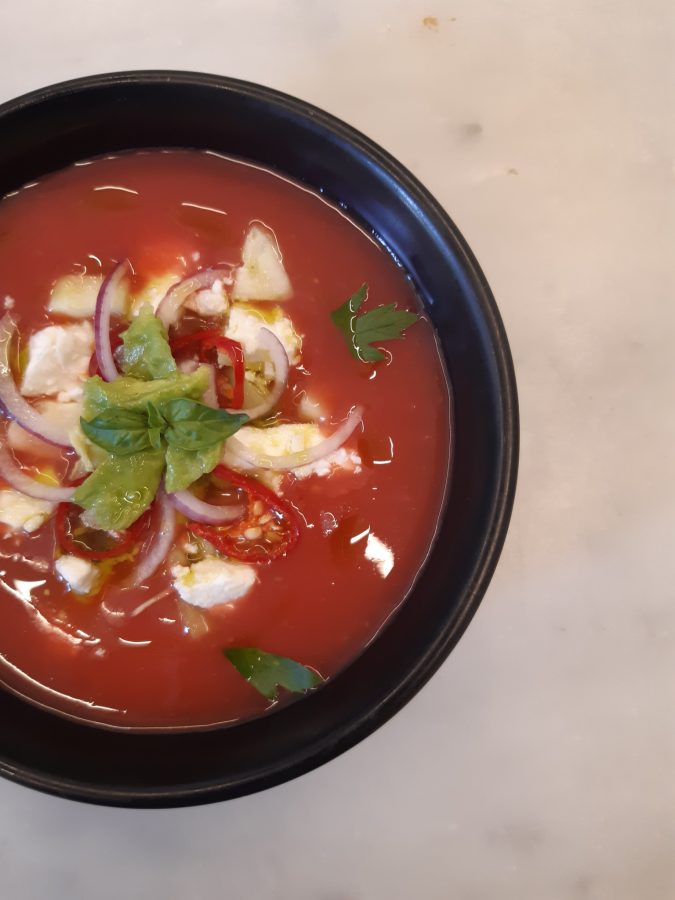 Have you ever heard about cold vegetable soup? Gazpacho is what you are looking for! Gazpacho is a spicy soup that is usually made from chopped raw vegetables (such as tomato, onion, pepper, and cucumber) and that is served cold. This traditional Spanish soup is full of vitamins, perfectly refreshing, and replenishes the missing minerals and vitamins during hot summer days. Gazpacho will surprise you with not only its full vegetable taste, but also with low-calorie nutrients, rich in fiber that will keep your hunger at bay. Just stop by the nearest local food market and you can enjoy the soup in a truly brief time.
Ingredients:

1 kg florentino tomato 1 feta
2 red bell peppers 1 avocado
1 celery stalk a handful of spring onion 50 gr strawberries fresh basil
10 basil leaves cucumber dices
2 garlic cloves chili peppers
50 gr tropea onion olive oil
250 gr cucumbers (skin and seeds off)
Salt to taste
Method:

Juice celery, basil, red bell peppers, garlic and tropea onion first. Combine the juice with chopped tomatoes, cucumber, strawberries, and mix everything together in the food processor or in the blender. Keep it cold in the fridge. If you don't want to buy so many ingredients for the garnish, you can complete your gazpacho with just a few suggestions for decorations or just choose which vegetables you like best. As a basic standard, we recommend using fresh basil, feta, and olive oil.