Trattoria Ponte Vecchio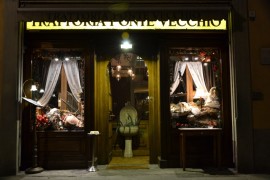 Review by Victoria D'Esposito
A trattoria is basically a less casual Italian restaurant. They are usually family owned and provide a nice relaxed, homey environment. The Trattoria Ponte Vecchio is located right off of the river just past the Ponte Vecchio. There was no reservation necessary at this trattoria; we walked right up and were seated right away. We were greeted, seated, and served by the same man, most likely the owner. The décor was very homey, the tables were nicely set and there was soft music in the background. It felt as though we were eating in our own home. The service was quite good and the waitstaff was quite friendly and knowledgeable. When I tried to order in Italian, the waiter was very helpful and appreciated that I attempted to say the order properly. In addition, the waiter could speak English quite well which made it easier for us to communicate.
I ordered probably one of the more simple dishes as it was pasta in a red tomato sauce. The menu was seasonality respected and did not use frozen food. The pasta was arranged nicely on the plate and the color that stood out to me was red due to the sauce used. The flavor was absolutely delicious, and had a nice garlic taste to it. We did not take a look at the wine list, however there were many wine bottles spread throughout the trattoria so I would assume that the list is quite long. The meal was quite delicious and food was served hot right out of the kitchen. I really enjoyed my food there. After eating, we had to ask the server for the check, however this is typical at any place you will go to in Florence. He brought it right away and thanked us for coming. I would recommend this trattoria as a place to try and I would definitely go back because the food and service were exceptional.
Trattoria Ponte Vecchio
Lungarno delgi Archibusieri, 8/r
Tel. 055 292289
Hours: Lunch 12:00-3:00 pm; Dinner 7:00-10:30 pm