Trattoria/Osteria Da Quei Ganzi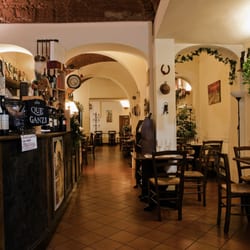 Review by Cassidy Williams, Benedetta Marra, Dylan Ferri, Marisa Talarico, Jonathan Ieraci
Osteria/Trattoria Da Quei Ganzi is located conveniently in the Santa Croce district, on via Ghibellina. Reservations are recommended for this small, local place, but it is not necessary during the week. Waiters and staff are helpful and quick throughout the dinner service. Upon sitting down, we received an extensive wine list that was helpfully sectioned by color and region. We ordered a half carafe of the house white wine and a bottle of Bisson Rosso wine 2015. For our appetizer we chose a plate of fried polenta with porcini mushrooms, also known as Crostini di polenta con funghi porcini. The polenta was perfectly cooked and it was an excellent pairing with the seasonal porcini mushrooms. The appetizer was a perfect start to our meal.
We then each had our own entree which gave a great sampling of the entire menu. From the primi piatti section, we ordered purple potato gnocchi with crumbled Italian sausage and Tuscan black kale. This dish tasted similarly to a minestrone soup, and the purple and green colors of the dish were very vibrant which embodied the fresh ingredients used. We also ordered the porcini mushroom risotto. The rice used in this dish was cooked perfectly and complimented the softness of the porcini. The mushrooms were cut in long pieces and was the perfect ratio to the rice.
The final meal from the Primi piatti section that was ordered was Tortellaccio in a beef ragù sauce. The tortellaccio was made fresh and were quite large, which allowed for a very filling meal. This was a very seasonal dish since the Tortellaccio was stuffed with pumpkin and potato. The sauce was very light which complimented the full flavor of the pasta and fillings. From the secondi piatti section we had the chicken strips with artichokes, which were extremely tender and perfectly coated with an artichoke sauce and a nice touch of balsamic vinegar. We also ordered a mixed seafood spaghetti, that came with an abundance of mussels, clams, prawns, and squid. For dessert, we ordered the apple pie with vanilla sauce. This typical fall dessert reminded us of being home and celebrating Thanksgiving with our families. The apple pie was served warm and the vanilla sauce enhanced the cinnamon and fresh apple flavors. Overall, this was an exceptional meal with local and seasonal ingredients. The staff was helpful with recommendations and the restaurant had a Tuscan, local feel. This is a great location to get dinner with family or friends.
Trattoria/Osteria Da Quei Ganzi
Via Ghibellina, 70/r
Tel. 055 226 0010
Hours: Wednesday-Monday Lunch 12:00-2:00pm; Dinner 7:00-10:00pm. closed Tuesdays