TuttoToscana Final Wine Roundup
Our final capstone dinner for the James Beard Foundation audience was a successful evening. Below is a roundup of the other Allegrini wines from producers Poggio al Tesoro and San Polo that were featured at the dinner. Blogpost on the dinner coming soon!
Bolgheri Superiore DOC Sondraia – Poggio al Tesoro
By Su Yan Ying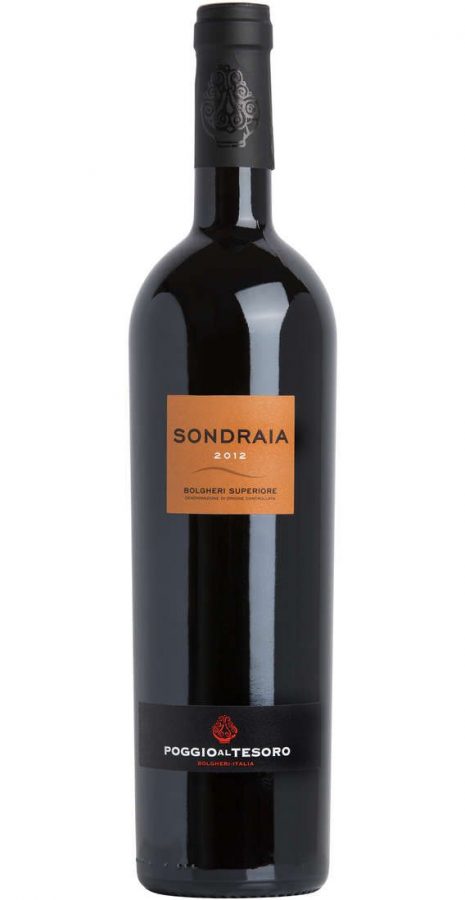 When tasting this wine, we can clearly see that the color of this bottle of wine is ruby red with a slight dark purple in the middle. This means the wine is aging for a while. After swishing, we can see that the "tears" are not very apparent; two things can be seen here, one is that the wine may taste dry, and the other is that it may not be high in alcohol. Two types of aromas are perceived: one is spicy, like black pepper, chocolate, and angelica. Another type is woody. The cultivated area extends over part of the northern part of the Tuscan Maremma and can be divided into three sub-zones: the hillsides of the interior, the flatter areas closer to the sea, and an intermediary strip in between. The appellation territory is characterized by a special climate due to its proximity to the Mediterranean sea: the refreshing sea breezes and the notable influence on the personality of these grapes. The luminosity is another fundamental factor as well: in addition to the abundant sunlight, the vines also enjoy the reflection of the sun's rays off the water. In terms of composition, the soils of Bolgheri are significantly different from one another. They range from clays to sands and to combinations of clay and loam as well. It should be noted, however, that it is the rocky substratum, calcareous in composition and containing both limestone and sandstone, which confers a special character to the grapes and the wines. The result is a vigorous and vibrant expression of their territory of origin. Poggio al Tesoro is a newer winery, founded in 2001, and produces excellent wines at reasonable prices and some that may well improve as the vineyards mature. It's the product of cooperation between Allegrini (of Valpolicella, Amarone and La Grola/La Poja fame) and an American wine distribution company. The wine has high acidity, tannin and alcohol, and the flavor is reminiscent of dark berry and spice. It can be paired with red meats such as steak, lamb, venison, pigeon, and duck.
Brunello di Montalcino DOCG – San Polo
By Gino Rouse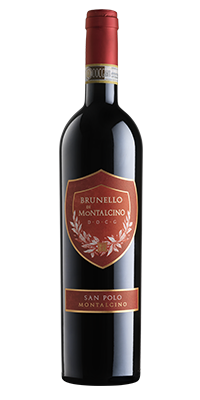 From our tasting of the Brunello di Montalcino DOCG we characterized this wine as very clear with a garnet color. This wine was also quite viscous as shown by how close the "legs" of the wine were after swishing in the glass. As you smell the wine you will find it has a clean smell as well as that smell being quite intense. This means as you smell the wine you can get many different aromas and even as it oxidises the smell will still evolve. When I got the chance to smell this particular wine I found it to remind me of ripe red fruits along with spices like nutmeg and pepper. This proved to me that the wine was quite complex. After tasting this wine I found it to be very dry with medium to high tannins. It had a more medium body but this can be related to the wine being so young. The terroir of Brunello di Montalcino is very unusual in that there are many different climatic and environmental mirozones. This happens because these vineyards are grown on hills that differentiate in altitudes. So even though these vineyards are close together they are in very different climates which cause different qualities to the grapes. The philosophy of Brunello di Montalcino is founded on its experiences acquired throughout its lifetime while also exploring new technology, but always maintaining the tradition. This wine is paired with spinach gnocchi, nutmeg butter, and DOP fontina cheese and it pairs well with this dish because of the strong nutmeg notes and the pungent, creamy fontina cheese. Since it is more of a heavy pasta dish a white wine would not pair well but the Brunello di Montalcino because it is more assertive in its own flavor.
Petit Manseng Toscana IGT Passito – Poggio al Tesoro
By Gino Rouse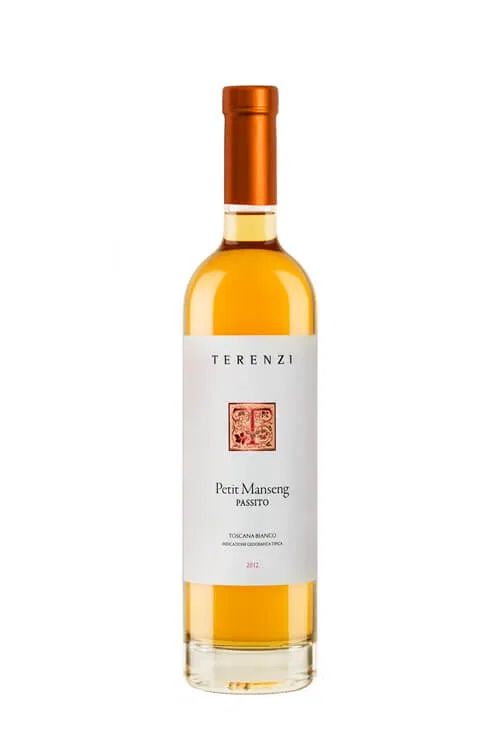 Petit Manseng is a small white grape variety primarily grown in south west France. Its name is derived from its small, thick skin that translate to "small manseng" and produces the highest quality wine of any grape in the Manseng family. This specific Petit Manseng is grown in Maremma, the coastal southwest region of Tuscany and the northern part of Lazio, and only produces about two-thousand small bottles per year. This particular wine has a deep ​straw yellow with amber and gold reflections​ with a fragrance of dried apricots, mangos and hints of honey. This wine is complex and has a balanced and full body. The terroir of Maremma is unique is several ways. This area has a typical Mediterranean climate, plenty of sun with little rain. The soil this grape is grown on is a mixture of sand and limestone which allows great drainage and along with additional exposure of the sun allows strong ripening giving the grape elegant and intense flavors and aromas. These grapes are hand harvested, fermented in stainless steel tanks at a controlled temperature, matured in oak barriques for eighteen months and then aged in bottle for twelve months. The philosophy of the winemakers is based on simplicity and respect to create beautiful wines with intense care, patience, and a deep understanding and respect for the territory. Since Petit Manseng has so many light, sweet notes within it, this wine would pair beautifully with cheeses and delicate pastries. The dessert dishes for the James Beard event will complement this wine perfectly, enhancing the flavors of the dishes as well as evolving the aromas and flavor notes of the wine with each bite.