It's All About the Roots

By: Sam Arledge, Larissa Huiting, Reese Oakley, Mark Rawls, & Syndie West
The Tuscany hill sides are perfect for growing grapes because of the winds from the sea and the different angle of the sun make for an optimal environment for the grapes to thrive. Col d'Orcia winery in Montalcino features some of the best and most diverse wines in Tuscany. Count Francesco Cinzano, the owner comes from a long heritage of wine making that stretches over 500 years. He is planning on passing down his winery to one of his two sons when he decides to step down.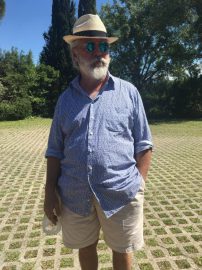 In a recent visit to the winery, four wines were tasted along with their unique pairings. The dishes featured were various pastas, assorted meats and cheeses, hummus, and a bitter orange marmalade dessert, all of which were grown and prepared on the 1300 acre property. Of all the wines made at Col d'Orcia, none is more famous than the Brunello di Montalcino, and rightfully so. We had the opportunity to taste the 2011 Brunello di Montalcino DOCG. It is made with 100% Sangiovese with Italy's highest classification DOCG. The Sangiovese Grosso are the species of grape used and are known for having thicker skin resulting in exceptional bold fruit flavors, high tannins, and high acidity. The tannins and acidity extends the life of this wine so that it is best drank after a decade or more. The wine is aged for three years in large wooden barrels before bottling and keeping the bottles in the cellar at least 1 year before releasing the wine to the market. All of this work and labor produces a wine that will stick with the drinker for years. This comes not only from the dedication to the grapes but a dedication to land and wildlife in general. Col d'Orcia is a wildlife preserve and Count Francesco Cinzano is largely passionate about the land, and he noted that the land has to be honored in order for it to produce the grapes needed. It is a balancing act and mutual respect for nature. The other 3 wines featured made from other grapes grown were the 2015 Pinot Grigio Organic, 2014 Rosso di Montalcino DOC Organic, and a Moscato. Overall the main lesson Count Francesco Cinzano wanted us to take away was that you cannot begin to understand a wine without knowing the history and culture behind it.