Il Coccolo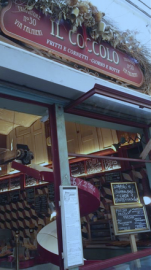 Review by Kelsey Thornton
Il Coccolo is a small and rustic looking friggitoria, which is shop that sells a variety of fried street food, depending on what region of Italy you are in. This shop serves a specialty known as coccoli, which are balls of fried pizza dough that you can order salty or sweet. They are made fresh at every order and come off the intriguing conveying belt and slide located in the store, piping hot! From there you can fill the coccoli yourself with one of their three flavor options: a strawberry puree, a homemade crème, or, my personal favorite, Nutella. There are multiple seating options so you can sit down in the shop, laugh and talk amongst friends while eating your delicious snacks.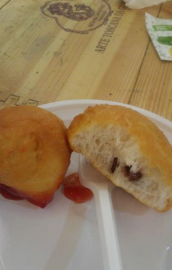 The prices are very reasonable, you can get 6 coccoli for only 2.50 euro; this is plenty enough to share with others or even carry back home for later. Il Coccolo also has many other fried specialties, such as fried apples or a coccozone, which is shaped like a calzone but made with fresh pizza dough. If you're looking for a delicious and unique treat in Florence, I highly recommend Il Coccolo.
Il Coccolo
Via Matteo Palmieri, 30/r
Hours: Monday-Thursday: 11am- 12am and Friday-Sunday: 11am-3am.