Crepapelle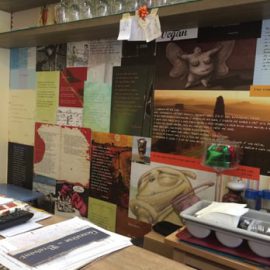 Review by Mary Butler, Kristina Deese, Sarah Hotzel, Katharine Woodard, Julie Pham, Avery Hayden
Crepapelle is a small vegetarian restaurant with several vegan options. It seats around 18 and it would be better to stick to groups of four. At first glance, it seemed like a plant-based restaurant, so we were impressed by the healthy, yet filling vegan and vegetarian choices. We liked the bright colors and eclectic atmosphere of the restaurant. Although it is small, it is very cozy. Our waiter was very accommodating and let us take our time. We all enjoyed the laid back and relaxing atmosphere that this restaurant offered. The welcoming atmosphere led us to ordering various dishes to share.
As for the food, the menu was eclectic and very delicious. Everything was served fast and hot. We had a wide variety of options and enjoyed tasting the different types of food that Crepepelle had to offer. To start, we ordered a few Panzerotti, which was a pizza dough that had been lightly fried and filled with vegan cheese and spinach. Overall the dish was very satisfying. It was rich, cooked to perfection and paired very nicely with the light and salty salad. For the main course, we ordered a few savory crepes. We decided to order the Rosa Parks, which was a savory crepe that has a taste like no other. The menu described the dish as a baked crepe cannelloni filled with vegan cheese, walnuts, pumpkin and spinach with paprika. It came with puff pastry straws with carrots, olives, and mayonnaise. The crepe was presented in two pieces with the warm sauce on top with walnuts. Every bite was so good and had unique flavors that worked well together. The side salad was chopped romaine lettuce with carrots and olive oil on top. Although the dish was tasty, it was a bit dry and could use more sauce. The other side was the puff pastry straws with carrots, olive, and mayonnaise. This was a nice addition, but not the highlight of the dish. To finish,  we ordered dessert crepes, which, in our opinion, was the highlight of the meal. We ordered a chocolate crepe and a snickers crepe. The snickers crepe was filled with chocolate and drizzled with caramel and chocolate and garnished with chopped peanuts and powdered sugar. The Chocolate crepe was a little lighter and not quite as sweet, being filled with only chocolate and lightly garnished with powdered sugar and cocoa powder. They were both very delicious and a great way to end the meal.
Overall, we thoroughly enjoyed our dining experience at Crepapelle. The food was delicious, the atmosphere was enjoyable, and the service was amazing. What minor flaws this restaurant has are outweighed by its overall excellence. We would highly recommend this restaurant to anybody who was seeking a healthy and flavorful meal. These healthy options will not break the bank.
Crepapelle
Via Giampaolo Orsini, 55
Tel. +39 338 540 1580
Hours: Tuesday – Sunday 7:00-11:00pm