BURNT!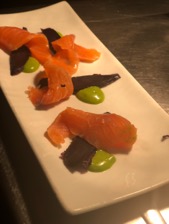 By: Morgan Duncan and Sam Eberly
When we walked into Ganzo, we were both pleasantly surprised with the atmosphere and decor of the restaurant. It was cool and casual and a great place to have conversations with new faces. We had the pleasure of meeting with one of the chefs, Lorenzo. He took us step by step through the select dishes that would be served to Table 21. We were informed that the theme of that particular night was "Burnt", a movie about a chef trying to obtain a Michelin star. With this theme came creative dishes, including different takes on the literal word of "burnt." Poached molo over toasted bread, smoked and cured salmon with purple carrot, and chicken brined and grilled served over roasted potatoes.
All of these dishes were excellent and very creative. We each ordered the seasonal fruit mojito and both enjoyed it immensely. It was very sweet and tart, but just the right amount; delicious. We even asked some of the guests at Table 21 what they thought of the whole experience. They each enjoyed the theme and were very interested in it. One gentlemen ordered the Negroni, which was actually what the chef, himself recommended.
Along with the dishes specialized for Table 21, there were also traditional Italian aperitivo dishes for both Table 21 and the entire restaurant. Some of them included prosciutto, salami, ham, pasta dishes, chicken salad, pizza, cheese, salads with pears and walnuts, and more. All of this food was open for the entire restaurant and was constantly being changed. There was also a choice of either a glass of wine or a cocktail with your meal. Some of the cocktails included mojitos, Moscow mules, aperol spritz, and negroni.
The atmosphere of the kitchen itself was somewhat hectic, the flow of all the chefs and workers seemed to be frantic in the beginning of the night. However, once more people began to come into the restaurant, the pace of the cooking sped up tremendously, showing that they could work as a team. About an hour into opening of the restaurant, the entire place was packed. There were a ton of tables inside and outside as well. The atmosphere of the outside area was very nice because you were close to the action of the kitchen, as well as enjoying the outside air. The atmosphere of Table 21 was relaxed and everyone seemed to be enjoying themselves. The entire table was full and everyone was talking to one another. It seemed to be a place where the faculty could enjoy their friends in a relaxed and fun environment.