Veni Vidi Mangia!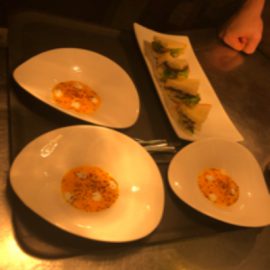 By Rosie Crave and Bailey Davis
Ganzo goes beyond the impressive food & themed dishes.
Ganzo is about the talent of students and the knowledge of their professors who challenge them to new boundaries. Each week the students are given a different theme or recipe by the head chef and they create different dishes for the Table 21 group and the many locals and students who come to Ganzo for the weekly apertivo. Each guest is offered a variety of salads, pastas, sandwiches, and other fun finger food. The drinks offered by the bar are made by an actual "mixologist" and they are outstanding! The teachers involved truly allow for the students to be exposed to some of the best techniques and atmospheres that Florence has to offer. This week's theme was from the movie "Chocolat". The featured dessert was a creamy delectable pumpkin mousse with ricotta, lemon zest, and chocolate nibs sprinkled over the top. It truly is a pure temptation. The pumpkin mousse was also accompanied by a chocolate mousse infused with pomegranate, garnished with a sprinkle of sea salt and a blue fish, black olive tapenade sandwich. Blue fish is mild and the tapenade perfectly balanced the many flavors of the sandwich. The dishes complimented each other through texture, vibrant colors and powerful flavors. Our group attended a great week and we look forward to returning to Ganzo to see what they create next, just like at Vianne's chocolate shop.
"My passion is wine, teaching, and restaurant management. That is why I am a member of Ganzo"- Lapo