A Theme That Leaves You Hungry for More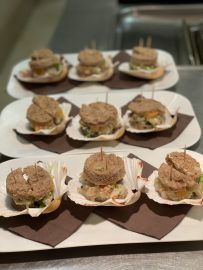 BY VICTORIA CANADA + CAITLIN CLONAN
Why stay in your comfort zone when you can let your creativity shine? AperiGANZO allows students in the Master Program at the APICIUS School of Hospitality to do just that. Each week students are challenged to create dishes that fit within the theme chosen by the Head Chef, Massimo Bocus, but push the bounds of the expected.
The theme this week was the movie, Ratatouille. Despite the childish animation, Ratatouille has a deep and impactful theme: it's about being an artist, developing your creativity, and discovering your life's passions. Throughout the movie, viewers see the struggles and triumphs of following your dreams.
The storyline within Ratatouille follows the same story of each student within the Master Program. Students have chosen to leave their comfort zone to live in a different country to follow their culinary passions. They learn from the best of the best what it truly means to be a chef, just as Remy did in the film.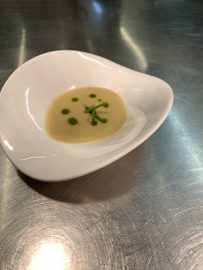 "They gain an understanding of what it means to plan, organize, and execute a meal, not just create. There's more to it," explained Bocus.
Each theme presents a new challenge, how can you turn a movie into an innovative dish guests would enjoy? This week students took different approaches. One student chose to pick his dish directly from the movie by making the soup featured in the first scene of the film. However, it was not as simple as one may think to create this dish. There was no clear recipe – instead the student mixed his expertise with what ingredients he could pull from the scene. As a result, he created a delicious leek and potato soup with an oil garnish. Another student let her creativity shine through an unexpected seafood dish. She created a shrimp and scallop tartare burger, torched on one side and served beautifully within a seashell.
Throughout the Ratatouille film, viewers follow the challenges Remy faces as he follows his dream of becoming a chef. Nothing worth fighting for is easy, and culinary students at the APICIUS School can attest to this. The unexpected task forced the culinary students to create a dish out of the ordinary. The execution of this theme perfectly captures the APICIUS School values of creativity and excellence. That being said, whatever the next theme will be, you should expect nothing short of perfection from the students at AperiGANZO!